Where Have You Gone, Jon Stewart, Our Nation Turns Its Lonely Eyes To You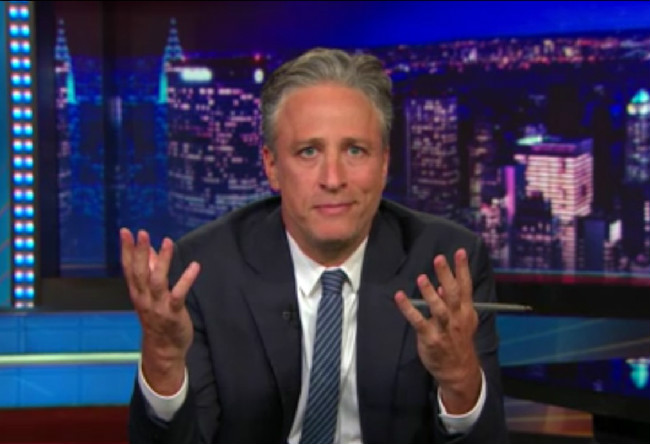 We need you more than ever, Jon.
Since leaving this past summer as the host of The Daily Show, a post he held for 16 years, Jon Stewart has been mostly out of sight. Sure, last month, we saw him get back into the national limelight a bit as he used his celebrity and activist personality to push Congress to reauthorize the Zadroga Act to benefit 9/11 first responders. That included an extended interview with his replacement, Trevor Noah.
It was also announced in November that HBO had signed Stewart to a contract to produce short-form digital content for its websites and online properties. The network will also have first crack at any movies or series that the comedian develops. Stewart should start posting regular content in early 2016.
And that's all well and good. When Jon told his audience that he was leaving The Daily Show last year, he let them know that he needed to move on to other things. Wading through all the bullshit spewed by Fox News, Washington politicians, the pundit class and the rest of the Conservative Entertainment Complex had taken its toll on him, and he needed a break. The prospect of dealing with another general election — this would have been his fifth as host — was just too depressing.
While understandable, the move was going to be doubly hard for fans of biting political satire, as Daily Show alum Stephen Colbert was also leaving Comedy Central. The Colbert Report, a perfect parody of Bill O'Reilly's The O'Reilly Factor, was shutting down so Colbert could take over CBS's Late Night from the retiring David Letterman.
But, we still have Colbert, even if in a somewhat different form. While he no longer plays his uber-patriotic character, and his political commentary is toned down, he can deliver a great interview (he's had many presidential candidates on) and still gets some good jabs in. Also, his Comedy Central replacement, Larry Wilmore, has found a nice groove with his show, using a panel format and lengthy comedic segments to highlight issues of race and inequality.
However, there is still that void left by Stewart, and it is never more apparent than when one tunes into Noah's Daily Show. Plucked out of relative obscurity, the network hoped the 31-year-old South African comedian could provide a wholly different perspective, basically giving an outsider's view towards American politics and media. Also, as a half-black man who grew up in the shadow of apartheid, he could speak about racial and social issues in a unique manner that was missing from the rest of the late-night TV spectrum.
While Noah is highly telegenic and definitely charming, he seems uncomfortable when it comes to commenting on the political landscape or the national news media. He tends to go after the easy punchline rather than dig in further. It also seems that he doesn't gather that those who watch his show are deeply informed on political and social issues, as he barely scratches the surface, showing either his lack of confidence in explaining a joke or his belief that his audience doesn't know very much.
Slate's Willa Paskin discussed this problem in a piece earlier this week, lamenting that while Noah should be cashing in on this crazy election cycle, he's instead coming across as milquetoast.
In theory, I am the exact kind of person the new Daily Show is targeting (well, besides my gender and age, since The Daily Show is targeting 20-year-old men): a thirtysomething who cares about politics but doesn't follow them that closely, not saturated in the details of the campaign trail but open to a sharp-tongued and eagle-eyed guide through a particularly internecine primary season. And yet I have found The Daily Show milquetoast and broad, diverting in the soothing way I associate with the Jimmys of network late night. On Trevor Noah's Daily Show, outrages are an occasion for bemused laughter, not righteously funny indignation.
As we head into a presidential election totally different from any election we've seen before, one all but tailored for The Daily Show, there is a Daily Show–shaped hole in the culture, despite a lesser version of the show airing every weeknight. Between Cruz's authoritarian smarm, Hillary's striving for the human touch, and the racist extravaganza that is Trump, American politics have never been more in need of puncturing by The Daily Show's exasperated logic. But Noah backs away from thorny issues like they are bombs that can be defused with a charming quip. He's out to neutralize, not to awaken. How did the program devoted to scaling bullshit mountain in all its incarnations, the program that once had a gospel choir sing "Go fuck yourself" to a Fox News correspondent, come to feel so beside the point?
Now, to be fair, Noah is still only four months into his tenure, and we are comparing him at the beginning to Stewart at his end. By the end of Stewart's run, he was in full command of his art. He had hit upon his sweet spot — media criticism —  and was able to dissect and skewer his targets like no one else. Thus, it is kind of unfair to hold Noah up to that standard.
But therein lies the main issue…we need Stewart like we've never needed him before. In an age where an intellectually incurious, bigoted, loud-mouthed billionaire has risen to the top of the GOP race on a wave of white resentment, all while the mainstream media treats him with kid gloves because they love the horserace aspect and the ratings covering him gives them, we need someone who was able to scale Bullshit Mountain and cry out from its summit.