Morning Joe: Ted Cruz And Donald Trump Struck An "Inside Deal" To Not Attack Each Other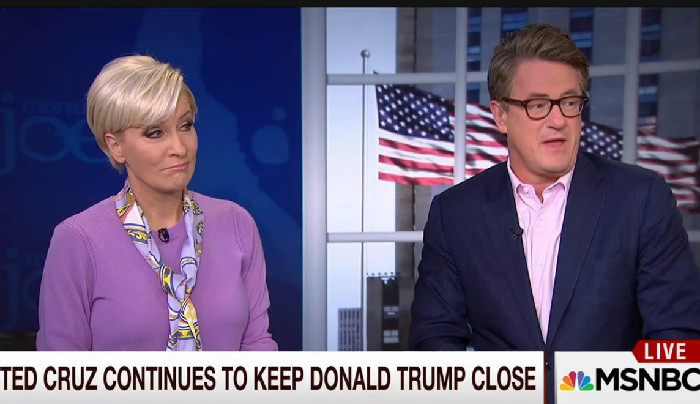 During Wednesday morning's broadcast of Morning Joe, host Joe Scarborough said that it looks like the two leading candidates in the Republican Presidential primaries agreed beforehand that they wouldn't attack each other and instead focus on "establishment" candidates.
Anyone who was unfortunate enough to sit through Tuesday night's Republican debate noticed that Cruz, who has risen to second in the GOP polls, made sure to direct most of his criticism towards fellow Senator Marco Rubio. Throughout the evening, Cruz continued to hit Rubio over his immigration and national security policies, labeling him as far too liberal and more a friend to President Obama and Hillary Clinton than to conservatives.
Meanwhile, Trump continually mixed it up with the quickly fading Jeb Bush. Over the debates, Trump has made it a personal mission of his to make Jeb! his bitch, constantly mocking the former Florida governor for being "low energy" and having low poll numbers. Tuesday night was no different, as he took numerous potshots at Bush.
Scarborough, leading a panel discussion on the debate's winner and losers, remarked that there was definitely a backroom deal feel about the way Cruz and Trump went about the debate. Over the previous few days, Trump had started to personally go after Cruz on the campaign trail after Cruz jumped ahead of him in Iowa polls. It had also been reported that the Texas Senator had criticized the celebrity billionaire in private meetings with donors, which led to Trump calling Cruz a "bit of a maniac."
"Notice everybody on the stage was attacking everybody but the top two guys," the Morning Joe host stated. "So Trump goes after Jeb, Cruz goes after Rubio, the establishment's favorite candidates, and they refuse to touch each other."
"It smacked of an inside deal," Scarborough continued. "If this maintains the status quo, neither Jeb or Rubio catches them."
Trump had come under fire from the far-right, specifically loyal media supporters like Rush Limbaugh and Mark Levin, for going after Cruz. They've long held that Cruz is a "true conservative," and therefore don't like seeing anyone from the GOP, even Donald Trump, attack him. Meanwhile, they've bought into Trump's racist rhetoric and would love to see him go all the way, potentially with Cruz as his running mate. Thus, we get what we saw Tuesday night, which Scarborough duly noted.
Below is video of the segment, courtesy of MSNBC: