Fox's Bo Dietl: All Immigration Needs To Stop Because Of A Likely Hoax Bomb Threat In LA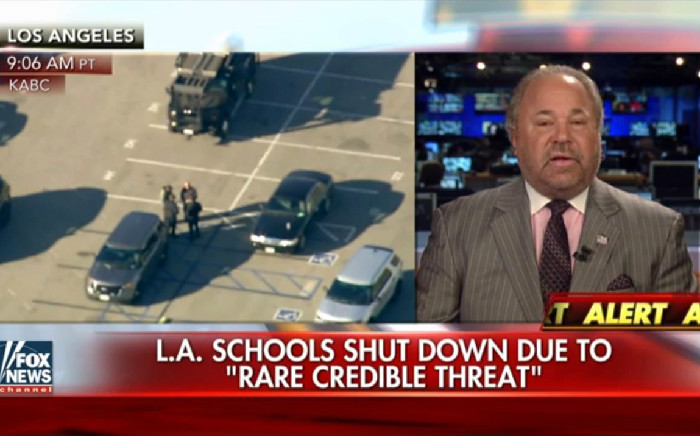 On Tuesday morning, cable news had all of its attention focused on Los Angeles, as the unified school district's superintendent canceled the day's classes over what he labeled a "credible bomb threat." However, as the day went on, it was revealed that the threat was in all likelihood a hoax. New York received a very similar message and the city's police chief dismissed it, stating that it did not appear credible, and they did not decide to shut down schools for the day.
Now, due to the recent shooting in San Bernardino, no one can fault officials in LA for being overcautious and deciding it was best to keep kids at home while the investigated the threat. However, over at Fox News, even though they were aware of the fact that there was most likely no bomb or legit danger, it didn't stop them from using the opportunity to spread some good old fashioned xenophobia and hype up Donald Trump's demand to ban all Muslims from entering the country.
Appearing on Outnumbered, Fox contributor and thumb in a pinstriped suit Bo Dietl was brought on to analyze and discuss the law enforcement reaction to a bomb threat. Of course, after a few seconds of police analysis, we were then treated to Dietl's opinions. And if you've ever seen him in action, you already knew what to expect before he even started.
After deciding he no longer needed to talk about the police reaction to threats of this nature, the ex-NYPD detective went all in with the Islamophobic and anti-immigration attitude that has gripped the Fair & Balanced network in the Age of Trump. (Not like they weren't always that way.) Dietl ramped up the fear and faux outrage about terrorism and scary foreigners, eventually stating that we need to buy in to Trump's immigration advice.
"We are at war right now. And when Donald Trump comes out about stopping the immigration, you know what? He's right. All immigration should stop until we know what the heck is coming into our country, how many more of these terrorists are coming into our country. And this only stands to reason more we are living in fear like this. What is that causing our children in these schools to be taken out of school? Why are we being taken out? Because of a bomb threat from terrorists."
Lead host Harris Faulkner then chimed in to remind viewers that authorities, including the FBI, had found no ties to terrorist groups in regards to the bomb threat. However, she let Dietl know that she totally understood where he was coming from, lest any Fox watchers thought she was being soft on terrorism.
Below is video of the segment, courtesy of Fox News: