NBC News Reporter Explains That Trump's Muslim Ban "Feeds Into The ISIS Narrative"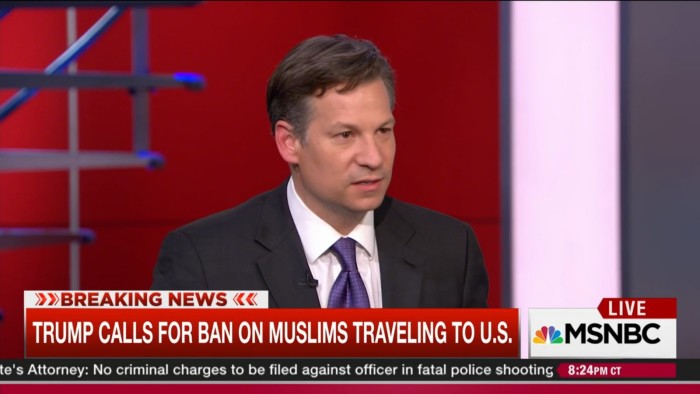 While many pundits, politicians and journalists have expressed their outrage over Monday's statement by Republican Presidential candidate Donald Trump regarding his demand that the United States ban all Muslims from entering the country, much of the noise has been regarding the unrepentant bigotry and fear-mongering driving his words. However, during an appearance on The Rachel Maddow Show Monday evening, NBC News chief foreign correspondent Richard Engel hit the nail on the head regarding the dangerous repercussions Trump's actions could have for America abroad.
Fresh back from an extended assignment in Paris covering the aftermath of the terror attacks that rocked the city last month, Engel sat down with host Rachel Maddow and discussed his concern regarding Trump's proposal and how he believes it will not openly hurt our standing in the international community, but that it is exactly what ISIS wants at this point.
"This is not small ball, actually. It would be interesting to say oh this is just fun. This is just more you know he's trying to score a few points. But the world watches this. The world sees the leading political candidate from one party making these kind of statements and still doing well and having these rallies. And those vox pops you showed where people are saying, yes, we need to do them. Send them back home. Those are going around the world right now, and people realize this person is leading in the polls. That must be what Americans think. I was today with an ambassador from the Middle East. Today. And we were talking exactly about this subject. And he said, well, people in our country watch what is going on, and it makes us very concerned. So from the world perspective, it is absolutely an image, an impression, a black spot on our collective foreign policy and our conscience. And it also just feeds into the ISIS narrative."
As Maddow highlighted during their conversation, Engel is someone who generally stays out of the partisan political fray. In fact, he has raised the ire of many an Obama supporter due to his no-nonsense reporting on the troubles in the Middle East, as he's constantly called out the administration for sugar-coating just how dire the situation in Syria and Iraq really is. Based on his extensive coverage of foreign affairs, and his own generally cynical and world-weary attitude, one should definitely take him seriously when he says that Trump's bullshit needs to be stopped now.
Engel's comments earned immediate praise from colleagues and others. CNBC's Carl Quintanilla tweeted out a transcript of the reporter's remarks. The Washington Post's Callum Brothers highlighted just how big it was for someone as respected as Engel, and not just a pundit or commentator, to call out Trump on that level. Will Engel's words help push the mainstream media to responsibly cover Trump from here on out? Eh, who the fuck knows. But at least Engel warned us of the real danger ahead.
Below is video of the segment, courtesy of MSNBC: