Fox News' Elisabeth Hasselbeck: It's Obama's Fault That Donald Trump Wants To Ban Muslims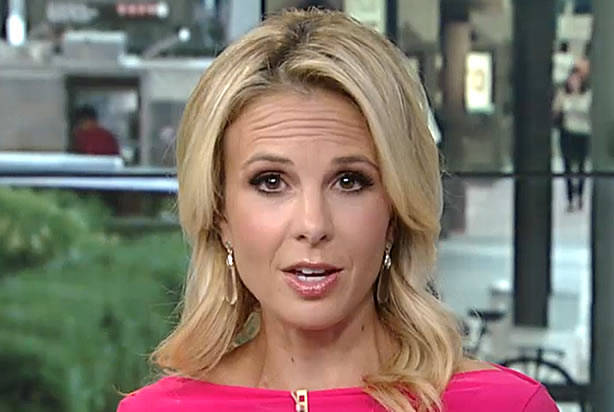 Tuesday morning represented the first opportunity for the cable news morning shows to weigh in on GOP Presidential frontrunner Donald Trump's Monday announcement that he wants the United States to ban all Muslims from entering the country, including U.S. citizens who are overseas. While The Donald was jousting with the hosts of New Day and Morning Joe in a couple of extremely contentious interviews, his buddies at Fox & Friends decided to come to his aid and tell their viewers who the real villain is.
Discussing the reaction to Trump's statement with her co-hosts, former Survivor contestant Elisabeth Hasselbeck claimed that the celebrity billionaire wouldn't have had to go to these extremes if this country had a real leader who would "make us feel safe about terrorists." This came on the heels of half-sanded block of limestone Brian Kilmeade essentially defending Trump's proposal, saying Trump's plan "might make a little bit more sense" when it comes to preventing people from war-torn countries from coming to the United States.
Hasselbeck, who will soon be departing Fox to spend time with her family, said she could understand why people would feel a little queasy about using a religious test for entry into this country, which is why The Donald isn't seeing much endorsement of his idea. However, the fact is that Obama is really at fault because he just isn't comforting us enough and it causes a real leader like the former Apprentice host to take action.
"Some will also question why don't we just fix the actual system in place and why don't we have a leader in place that would actually make us feel safe about terrorists so we didn't have to go to the extremes and say, hey you, you believe this, well you're not coming into our country," screeched the curvy couch sitter. "I think a lot of people believe this country is about more than that and the terrorists want us to be not the way that we have been."
Kilmeade claimed that his co-host "made a great point," stating that Obama's Oval Office speech on Sunday night just didn't do enough to calm the American people and let them know he's got their back. That is why someone like Trump needed to swoop in and let Americans know that he's looking out for them.
Yep, Fox News is laying the groundwork right now to make Trump's hideous and fascistic plan look acceptable to conservatives and Republicans.
Below is video of the segment, courtesy of Media Matters: