GOP Congressman Attacks Planned Parenthood Live On CNN During Active Police Shootout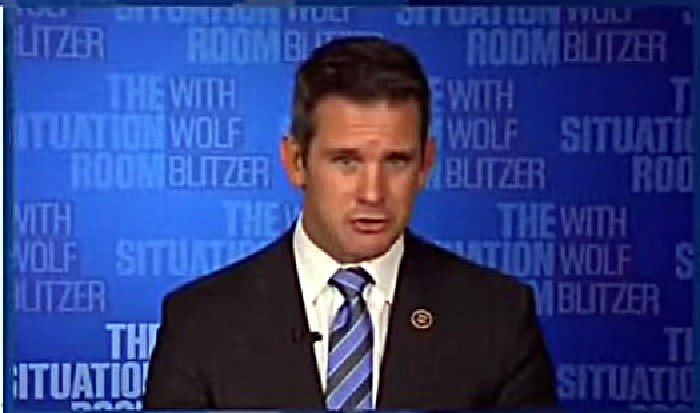 Apparently for some politicians, strict adherence to one's political ideology trumps any and all other things, even when confronted with instances involving actual deaths. We witnessed that live on the air late Friday afternoon from Rep. Adam Kinzinger (R-IL), who for some reason was called upon by CNN to comment on the active shooting situation that was occurring at a Colorado Springs Planned Parenthood clinic. Instead of using his time to discuss his outrage over the situation or talk about measures that could be taken to prevent things like this in the future, the conservative lawmaker instead took aim at the women's health organization itself, because why the fuck not.
Speaking to CNN's Brianna Keilar while police were still engaged in a standoff and shootout with gunman Robert L. Dear, Kinzinger was first put off by a statement that the clinic released decrying extremism that "fuels domestic terrorism in this country." The Congressman stated that Planned Parenthood was wrong for saying that and demanded an apology from the group if it was shown that the shooter wasn't specifically targeting the clinic.
However, Kinzinger took it one step further. He then jumped into a tirade about Planned Parenthood and abortion, essentially saying that even if the shooter aimed at PP in an effort to kill people due to his anti-abortion beliefs, it still pales in comparison to what they do to fetuses every day. The GOPer brought up the debunked and heavily-edited videos released by a pro-life group earlier this year that were used by Republicans to smear and attempt to defund Planned Parenthood.
Mind you, in the end, three people — including one police officer — were killed by Dear in his Friday rampage, and nine others were injured. While cops were still actively engaged with the deranged shooter and CNN was showing live footage of the situation as he spoke, Kinzinger decided to use his airtime to talk shit about Planned Parenthood because that's how he rolls. Best to make sure that you stick to your anti-PP talking points when given the opportunity, even while some crazy fucker is shooting up a clinic at the very same moment, than to have even a modicum of decency.
The Congressman did take some heat on Twitter over his dumbshit remarks:
Waiting for apology from @RepKinzinger for saying @PPact was wrong to claim it was the shooter's target.

— Joan Walsh (@joanwalsh) November 27, 2015
Apologize @RepKinzinger. Your rhetoric was not only wrong, it fuels the flames of hate. — Lizz Winstead (@lizzwinstead) November 27, 2015
Can you imagine CNN interviewing an ISIS propagandist hours after the Paris attacks & giving him credibility like they did @AdamKinzinger?

— TC (@tchop_stl) November 27, 2015
Below is video of the segment, courtesy of Think Progress: