CNN's Harry Houck Is "Shocked" Chicago Protests Were Non-Violent Because Of All The "Thugs"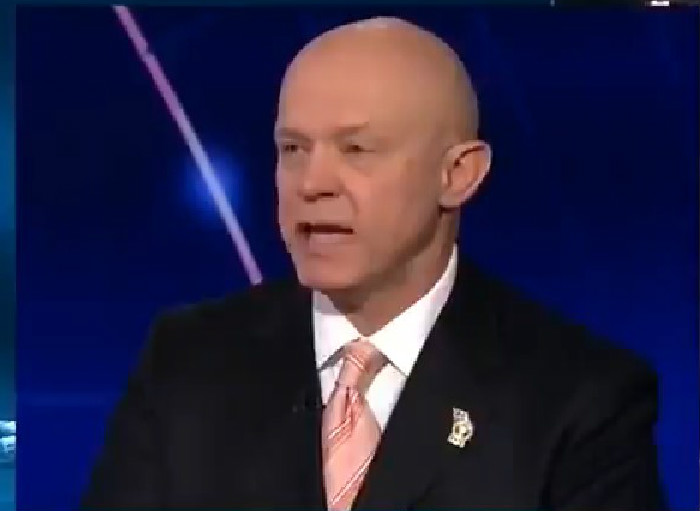 After more than 400 days, the city of Chicago finally released the dashcam video of the horrific shooting of 17-year-old Laquan McDonald by police officer Jason Van Dyke. Of course, a judge's court order was required to force the city to do this. Ahead of publicly releasing the video on Tuesday, prosecutors charged Van Dyke, who is white, with first-degree murder for shooting McDonald, who was black, sixteen times after the teenager was walking away from him. Obviously, the city hoped that charging the officer would help calm down any reaction from the community over the graphic contents of the video.
While non-violent and peaceful protests took place in downtown Chicago Tuesday night following the public release of the video, cable news channels dispatched hordes of reporters hoping to catch a glimpse of some riot porn. However, much to their chagrin, the demonstrations throughout the evening did not flare up into anything destructive or violent. For the most part, a large group of protesters marched along large streets in the downtown area, stopping to block intersections and chant.
Over on CNN, anchor Don Lemon expressed his obvious disappointment that there was really nothing juicy for them to cover, constantly referring to the protests as "peaceful" while talking with on-ground reporters, all with a hint of sadness in his voice. Considering that he didn't have images of tear gas and burning cars to fill the airtime, Lemon turned to panel discussions during his broadcast. One of the panelists who popped up throughout the night was former police detective and current killer cop apologist Harry Houck.
As one would expect, Houck spent much of his time Tuesday night sticking up for all cops, even while he admitted that Van Dyke likely deserved the charges that were levied on him. The analyst got into a shouting match with former prosecutor and CNN contributor Sunny Hostin over the racial disparity in shootings by police officers. However, it was later on in the evening when Houck's barely-concealed white supremacy really showed.
Speaking on the relative calm of the protests, Houck told Lemon and the panel that he was "shocked there's no violence." After repeating how "shocked" he was, fellow panelist Bakari Sellers told he didn't have to be surprised. Yet, Houck still was just in utter disbelief that there weren't "problems in the inner city."
Sellers pressed him some more, looking for an explanation. That is when Houck let him know that "the thugs" would typically use this as an excuse to go out and cause mayhem. Houck then repeated the word "thugs" when Sellers asked him to repeat himself. After Lemon tried to intervene and help Houck out a bit, the ex-cop doubled down, saying he wasn't talking about "these people" but of the ones "who will actually go out and riot, destroy property, fight the police."
But, no worried for Houck. Lemon stepped in again and helped "explain" the CNN analyst's words to the panel, lest anyone think Houck is an unrepentant racist who just plain hates black people. Oh, I'm sorry, "thugs".
Below is video of the segment, courtesy of Media Matters: