Fox Business Hosts Agree That Comparing Muslims To Dogs With Rabies Is Totally "Applicable"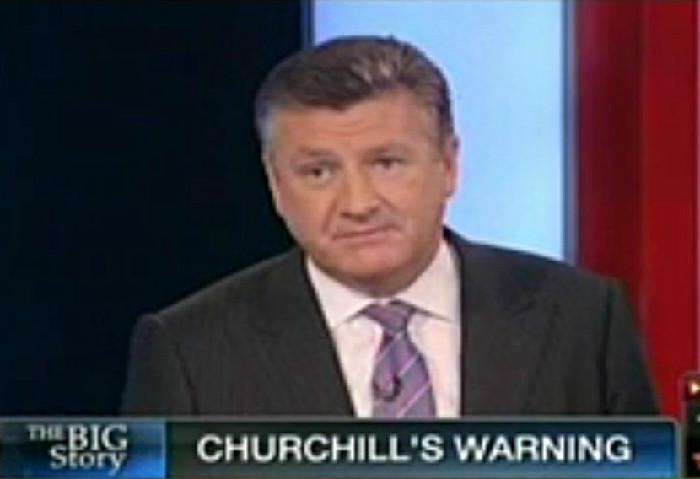 The hateful vilification of 1.6 billion people continued unabated on Fox Tuesday as seemingly every program on both Fox News and Fox Business resorted to simple-minded screeching to discuss Muslims in relation to the Paris terror attack. In sticking with the prime directive, Stuart Varney used his program to compare those who practice Islam to dogs infected with rabies, using an old quote from Winston Churchill to justify the comparison.
Speaking to fellow Fox Business hosts Ashley Webster and Liz MacDonald on Varney and Co., the always unsympathetic Varney brought up a passage from Churchill's book The River War where the British statesman discussed his time as an officer in North Africa. In the book, Churchill contrasted Christianity with Islam and said that Islam paralyzes those who follow it and stunts the growth of a society. He also said those who adhere to the religion are as dangerous as dogs with rabies.
After reading the quote, Varney opened it up to discussion and reached a consensus with both MacDonald and Webster that the words Winston Churchill wrote over 100 years ago were still very fitting today. MacDonald replied that John Adams and his son both felt the same way and reiterated that Christianity is the polar opposite of Islam. Meanwhile, Webster said that Churchill's quote stood the test of time and "would be applicable" today.
Below is video of the segment, courtesy of Media Matters:
The fundamental thing that Fox, the rest of the mainstream media and conservative politicians seem to be getting wrong here is their continual insistence that all Muslims are part of this large but same community. They seem to think those who follow the basic tenets of Islam are all relatively the same. It is telling that they lack a basic understanding of how vast not only the religion is but how the people who practice it believe in different versions, belong to divergent cultures and are in general a very diverse group of people.
At times like this, it is always good to revisit this clip of scholar Reza Aslan describing how it is ignorant and beyond bigoted to generalize Muslims into one basic category.