Continuing Their Feud, George Will Says Bill O'Reilly "Pollutes" And "Makes A Mess Of History"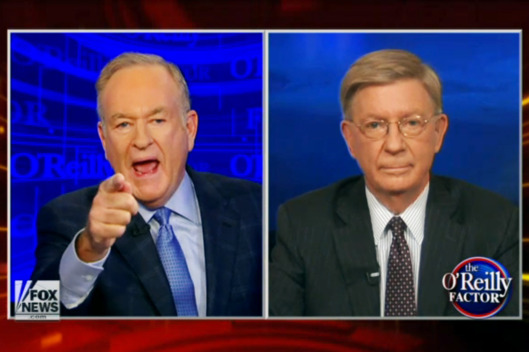 In what has turned into a vicious and network-dividing battle of words, Washington Post columnist and Fox News contributor George Will fired off another shot at Bill O'Reilly over Will's contention that the host's latest 'history' book on Ronald Reagan is full of falsehoods and misinformation. This comes on the heels of a back-and-forth between the two conservative commentators that started with a Will column last week and culminated in O'Reilly calling the Pulitzer Prize winner a "hack" and "liar" during a heated Friday night on-air segment.
Will, who writes a twice-weekly column for the Post, decided to go back after O'Reilly after the former Inside Edition host took a presumptive victory lap on the air Monday night, claiming he had proved to Will and other Reagan "loyalists" that he was proven right. The bespectacled pundit hammered away at the longtime Fox News host, stating in the first sentence that if lungs were "the seat of wisdom,  Fox News host Bill O'Reilly would be wise, but they are not and he is not." It only got more ruthless from there.
Beyond pointing out that O'Reilly and his collaborator Martin Dugard had already been ridiculed for their fact-checking in the previous book, Killing Lincoln, Will also highlighted how the two didn't even bother to interview anyone that had firsthand knowledge of their subject, Ronald Reagan. He also took Papa Bear to task for making the crux of his book a memo that he never read and didn't even start trying to track down until a month after the book was published.
Will ended his column by quoting The Great Gatsby and then tossing one last merciless insult O'Reilly's way:
In "The Great Gatsby," F. Scott Fitzgerald writes of Tom and Daisy Buchanan, who "smashed up things" and then "retreated back into . . . their vast carelessness . . . and let other people clean up the mess they had made." Tidying up after O'Reilly could be a full-time job but usually is not worth the trouble. When, however, O'Reilly's vast carelessness pollutes history and debases the historian's craft, the mess is, unlike O'Reilly, to be taken seriously.
Burn!
Apparently, this feud runs deeper than two old, rich, with, conservative dudes fighting over who is right when it comes to historical facts. Gabriel Sherman of New York Magazine, a bit of an expert on Fox News and its inner workings, published an exclusive Monday on the larger ramifications in the Will-O'Reilly feud. In O'Reilly's mind, Will should have reached out to him and got his blessing before printing his first criticism of Killing Reagan. However, Will is under no such obligation per his contract with Fox, and his boss is actually different than Bill-O's. In fact, it appears their bosses are actually in a power struggle over who will take over for chief Roger Ailes.
Inside Fox, the O'Reilly-Will feud is being closely studied by executives because it is part of a larger power struggle that's taking place at the highest reaches of the organization. On opposing sides of the fault line are [Mike] Clemente, who oversees news (where Will works), and executive vice-president Bill Shine, who oversees prime-time shows (where O'Reilly works). Clemente and Shine are vying to replace Ailes and are such bitter rivals that they barely speak, numerous Fox employees say. In August 2014, the rivalry intensified when Ailes put Shine in charge of the Fox Business Network. "This is some Game of Thrones shit," one insider told me. The relationship is so bad that Clemente is not involved at all in preparing for the upcoming GOP debate on Fox Business.
Shine's loyalists tell me that Clemente did not confer with Shine about Will's anti-O'Reilly column before it was published. Furthermore, they're furious at Clemente for not stopping Will from embarrassing Fox's highest-rated host in the pages of the Post. They reminded me that it was Clemente who recruited Will to Fox from ABC in 2013. One source also explained that Will received a special contributor contract with Fox that grants him editorial independence for his column (other contributors are barred from writing about Fox without permission). "He doesn't have to check with Fox," the source said.
Per Sherman, Fox News employees are almost exclusively on "team George" because they believe that O'Reilly's book are something of a joke due to being poorly researched.
You know it is an absolute certainty that Bill will comment on this Tuesday night. He has to get the last word in, that much is a given.