Ouch! New York Times Editorial Board Tells Chris Christie To Drop Out Of GOP Race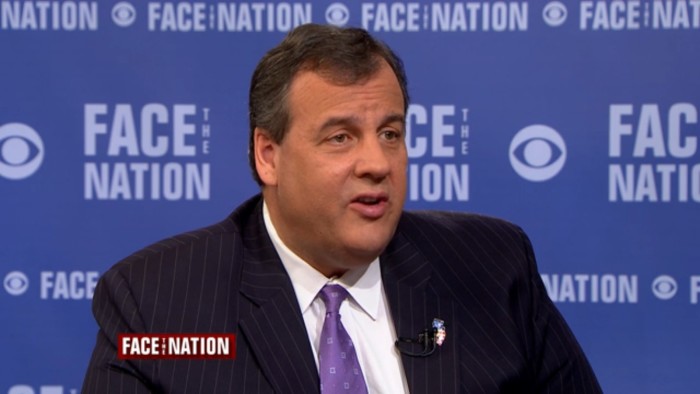 Leave it to the nation's paper of record to be extremely blunt when it comes to telling a Presidential candidate that it just isn't going to happen. In an op-ed published in Thursday's paper, the New York Times editorial board called for New Jersey Governor and bottom-scraping GOP White House hopeful Chris Christie to give up his pipe dream of becoming President and just drop out.
Yep, a day after Christie joined other Republicans in criticizing the mainstream media during a trainwreck of a debate, the NYT laid out their case for why he should stop wasting everyone's time and just go away. Highlighting the unpopular guv's poor economic record and the fact that he's ignoring the state to run a fantasy Presidential run that will never come to fruition, the paper's editors absolutely pummeled Christie.
From the article:
This isn't strictly about Mr. Christie's fitness for the presidency. His role in New Jersey's budget crisis, betrayal on affordable housing and the interlocking scandals on his watch, from Bridgegate to "the chairman's flight," say a great deal about that.
The point is that New Jersey is in trouble, and the governor is off pursuing a presidential run that's turned out to be nothing more than a vanity project. Mr. Christie's numbers are in the basement, and he's nearly out of campaign cash. This is his moment, all right: to go home and use the rest of his term to clean out the barn, as Speaker John Boehner would say.
Besides pointing out that Christie is at the bottom of the GOP polls and nearly out of money, the Times also chastised him for abandoning the state when it needs a governor the most, stating that most New Jersey residents feel he doesn't care. They also ridiculed him for claiming that he knows more about responsibility than Hillary Clinton due to his executive experience.
While Mr. Christie talks tough to empty rooms in Des Moines, Trenton is running on autopilot. Take Mr. Christie's breakout moment, his response to Hurricane Sandy. Today, one-third of New Jersey residents hardest-hit by the storm say they are "very dissatisfied" with the state's response so far; two-thirds say they feel "forgotten." His fellow Republicans in the Legislature are embattled, thanks in part to the example he's set. Mr. Christie earns $175,000 a year, the fifth-highest-paid governor in the nation, according to the Council of State Governments. Yet he hasn't offered to forgo his salary or take a pay cut, as nearly a dozen full-time governors have done. Florida's Sun Sentinel demanded Tuesday that Mr. Rubio, who earns a nearly identical salary and has missed 99 votes while on the campaign trail, more than any other United States senator this year, simply resign.
In an interview Tuesday on CBS, Mr. Christie said no other candidate has been more tested than he has, including Hillary Rodham Clinton. "My responsibilities, I think in many ways, have been greater than hers have been," he said.
He added: "When you're in charge of the state and you're the ultimate accountable person for what happens in that state over a period of time, I do think that that's a much more personal challenge."
That "period of time," Mr. Christie, is called a second term, and until it ends in 2017, you are accountable for what happens in New Jersey.
After the piece ran, Christie took to Twitter to joke about not being able to read it because he doesn't have a subscription.
.@nytimes Can't read the article because I don't have a subscription, but I can tell you this – I am not going anywhere.

— Chris Christie (@ChrisChristie) October 29, 2015
This led to a number of Times writers tweeting back at him to give him advice on how to bypass the monthly article limit firewall.  
@ChrisChristie just clear your cookies and you can get another 10 free articles — Josh Barro (@jbarro) October 29, 2015
.@ChrisChristie See,with my newsletter,you won't enrich us, but you'll still be able to read stuff you hate! Free! https://t.co/nvRsYuNiVq

— Nicholas Kristof (@NickKristof) October 29, 2015
Morning Joe's Joe Scarborough, forever champion of Christie, took a cue from the GOP candidates at the debate and decided to take a couple of shots at the Times for being totally biased.  
The Times editorial board embarrasses itself calling for Christie to quit the morning after a strong GOP showing. https://t.co/A8PsQJcVYT

— Joe Scarborough (@JoeNBC) October 29, 2015
It's almost as if the Times–who desperately tried to blacken both of Christie's eyes–fears a political comeback. https://t.co/A8PsQJcVYT

— Joe Scarborough (@JoeNBC) October 29, 2015
That'll show 'em, Joe!