Is Fox News Really Urging Republicans To Elect Newt Gingrich As Speaker Of The House? Yep.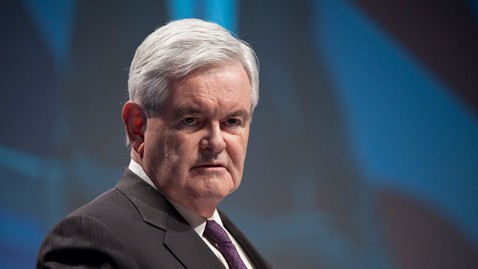 On Thursday, the Republican Party was thrown into chaos when House Majority Leader Kevin McCarthy (R-CA) withdrew his name from consideration as the next Speaker of the House. McCarthy was seen as the presumptive successor to outgoing Speaker John Boehner and the only person who could logically get enough votes to win a majority vote among the entire House. However, he decided to open his big mouth and reveal that the Benghazi Committee was all about hurting Hillary Clinton politically, enraging his colleagues. Add to that the Tea Partiers wanting one of their own in the spot, and whispers of skeletons in his closet, and McCarthy decided it wasn't worth the fight.
With McCarthy dropping out and Boehner postponing the Speaker election for at least another couple of weeks, we've seen tons of names tossed around as potential Boehner replacements. It appears most establishment GOPers would like Rep. Paul Ryan (R-WI) to take over, feeling he can appeal to the hardliners, and he has name recognition due to his Veep nomination in 2012. While he's so far declined to run, CNN has reported that he's privately considering it. You also have Jason Chaffetz and Daniel Webster, who had already announced their intentions before McCarthy dropped out.
On the wackier end of the spectrum, Fox News is pushing forward the idea that former Speaker of the House and current private citizen Newt Gingrich should be brought back to lead the House. During his radio show Thursday, Sean Hannity had Gingrich on and proposed to him that he should go back to Washington because the country needs him. He tried to get Gingrich to buy into his idea, claiming that he could go in with a new Contract for America. Eventually, Newt said he'd be open to it if 218 House Republicans said they'd vote for him.
Hannity took this brainchild of his to his primetime TV show to go further out into the ether. Speaking to Weekly Standard's Stephen Hayes, Sean said that he thinks "the most success Republicans had in the House was under Newt Gingrich. Bring him back!" Apparently, Hannity forgot about the ethics violation against Newt while in office, the first ever by a Speaker. It may have also slipped Hannity's mind that Gingrich's Quixotic quest to get Bill Clinton impeached made the President more popular and cost the GOP seats in the House, leading to him resigning his position and leaving Congress.
Below is video of the  segment, courtesy of Media Matters:
Well, apparently this idea sounded good to Fox News chief Roger Ailes and we saw it given traction the very next morning. During Friday's broadcast of Fox & Friends, co-host and Ailes mouthpiece Steve Doocy did the hard sell on Gingrich, saying the former Fox News contributor would be the perfect person to unite the far-right with the only kinda far-right. Why would he be a good choice? Because he shut the government down in the past, silly!
"Well, maybe they could actually get a lot — if it were somebody like Newt Gingrich, I mean, he would be great, a great counterbalance to the Iran deal. You know, it's all about the debt limit. Closed down the government, once upon a time. So there are a lot of people are thinking, maybe that makes sense."
Below is video of the segment, courtesy of Media Matters:
It will be interesting to see who else signs onto this plan at Fox. If you see Eric Bolling, Peter Johnson, Jr. and any of the midd-day anchors not named Shep Smith hype this, then you know it is something that Ailes is behind.