Why Does MSNBC Hate America? Network Expands 'Morning Joe' To Four Excruciating Hours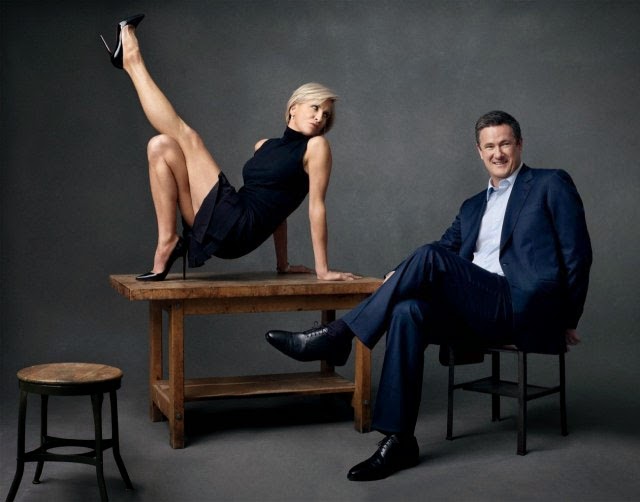 In an exclusive scoop on Thursday, media critic and conservative commentator Joe Concha stated that MSNBC would be giving its morning opinion show, Morning Joe, an additional hour. The program, which already runs three hours each weekday, will now broadcast from 6 AM to 10 AM ET, In order to make room for Morning Joe, MSNBC has decided to kick Jose Diaz-Balart to the curb. Currently, the respected Cuban-American reporter hosts the 9 AM to 11 AM slot on the network.
Over the past few months, MSNBC has been revamping its schedule in order to refocus its network branding away from liberal-based political opinion to more hard news reporting. Since the beginning of this year, we've seen shows hosted by Ronan Farrow, Joy Reid, Alex Wagner, Ed Schultz and the young crew of The Cycle get canceled. Last week, Al Sharpton saw his show, PoliticsNation, shuffled off to Sunday morning. Meanwhile, it has been understood that the only programs that aren't in danger of being moved or axed are Morning Joe, The Rachel Maddow Show and Hardball with Chris Matthews. 
While MSNBC has said it wants to focus more on hard news, giving a political opinion show like Morning Joe four hours seems to fly in the face of that logic. Same goes with giving Meet the Press host Chuck Todd a one-hour late-afternoon broadcast that will also center mostly on Washington politics. While it appears that there will be slightly more hours devoted to actual news broadcasting than in the past, it seems that more of the focus isn't on being a news channel, but being a more centrist, perhaps even Republican-friendly, network.
But will this all backfire? Giving a substance-free gabfest like Morning Joe four full hours to allow Joe Scarborough to bloviate endlessly seems like a bad idea on the surface. Especially when you consider that the hosts have decided to jump all the way on the Donald Trump bandwagon, allowing the real estate mogul and whining six-year-old to pop on the program anytime he wants to get free airtime for his campaign and personal brand. (Joe has especially embraced Trump's anti-Latino rhetoric.) This is made even worse that, in order to get the extra hour to blather on, the network got rid of its most well-known Hispanic personality.
The bad optics of giving a Trump-friendly program more airtime at the behest of a Latino anchor was noted by many after Concha's article went up.
Did @MSNBC just boot its only Latino anchor on his own show? http://t.co/YgsdO61FtX

— Julio Ricardo Varela (@julito77) September 3, 2015
.@richardwolffedc is it true @MSNBC is getting rid of its 1 Latino voice in the most anti-Latino Pres. cycle ever? http://t.co/DfFKHrzTBm

— Alida Garcia (@leedsgarcia) September 3, 2015
Wow! If I am reading this right Jose Diaz Ballart just lost his show on MSNBC http://t.co/ukkAlxqYCk via @mediaite #latism

— Kristian Ramos (@kramos1841) September 3, 2015
Wow. Can't believe @MSNBC is dropping @jdbalart. Seriously? http://t.co/cAABEQfW2q

— Philip Wolgin (@pwolgin) September 3, 2015
.@jdbalart QUE PASO amigo?? Not ok with this decision 🙁 And what does this do to @msnbc diversity #s? http://t.co/HghHF61OCO

— Gabriela Domenzain (@GabiDomenzain) September 3, 2015
wow, José Díaz-Balart losing his slot on msnbc. Morning Joe gets one more hour http://t.co/gIRNt2u1Ca

— Igor Bobic (@igorbobic) September 3, 2015
MSNBC is almost turning exclusively WHITE… http://t.co/mzr3icQu9q

— GEEZY (@GRYKING) September 3, 2015
As some pointed out, MSNBC is looking less and less diverse with these recent moves. From the way it appears, outside of Tamron Hall from 10 AM to 12 PM, the entire weekday lineup will be white. (Kate Snow is supposedly getting the 3 PM to 5 PM slot.) Compare that with just a few months ago, when you had Hall, Diaz-Balart, Reid, Wagner, Sharpton and The Cycle's Toure. Recent demographics have shown that MSNBC's audience is far more diverse than CNN and Fox News. Will that continue now that the network has decided to go more white and conservative in its approach?