Donald Trump: Fox News Chief Roger Ailes Will Make Megyn Kelly Be "Fair And Good" To Me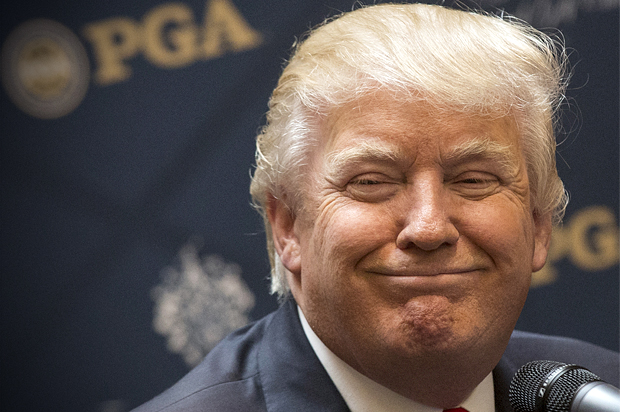 It appears that GOP Presidential frontrunner and hero to internet trolls Donald Trump just can't leave well enough alone when it comes to Fox News and Megyn Kelly. In a Friday afternoon interview with Newsmax TV's Steve Malzberg, Trump stated that he believes Fox News president Roger Ailes will force The Kelly File host to treat Trump fairly when she returns from her recently announced ten-day vacation. He also said that she is probably taking this break because of him. Furthermore, the celebrity billionaire took shots at Fox News Sunday host Chris Wallace, explaining that he won't do an interview on his program because Wallace "insulted" him at last week's GOP debate.
It was reported earlier this week that Fox chief Roger Ailes had made peace with The Donald after Trump went ballistic over the questions Kelly asked him at the debate. In the aftermath of Trump's "blood" comment about the Fox News anchor, Ailes reached out to the real estate mogul and allegedly told him they could either "go to war" or resolve their differences. Trump has since appeared on Fox programming, and the network has resumed covering his campaign.
However, that truce might come to an end if Ailes feels Trump isn't keeping up his end of the bargain. While Trump poo-pooed the notion that Ailes gave him an ultimatum, he had backed off personally attacking Kelly and other Fox personalities after receiving a phone call Monday from the Fox chief. The fact is that Donald needs Fox News just as much as they need him. They want the ratings that he brings while Trump knows that the best way to reach conservatives is to appear on Fox.
It will be interesting to see how Ailes reacts to the following Trump response to Malzberg's question regarding whether or not Kelly's vacation is really a punishment for how she treated The Donald.
"There probably was, but I wouldn't know about it. People were very surprised that, all the sudden, she decided to go away for 10 days… Some people make those quick decisions…I hope she's well and I hope she's feeling fine, and I hope she comes back and she's going to be fair and good. I'm sure that will happen, and I'm sure Roger will make it happen, 'cause he's a fair guy, and he wants things to run smoothly."
Later on in the interview, Trump told Malzberg that CNN's 'war' story was "totally false" and there is no way Roger would talk to him like that because The Donald is so very powerful and great.
"Roger knows that's not the way to talk to me, because if people talk to me that way, you know what happens. That was not Roger. It's not the way he deals with me."
Yeah, something tells me Ailes is not going to be too delighted about that little remark, especially when reading the statement Fox News released late Friday night about Trump's comments regarding Kelly.
It is possible that Ailes could also be pissed over Trump shitting on Wallace. Trump told Malzberg that he decided to do a Sunday sitdown interview with NBC's Chuck Todd rather than Wallace because he didn't like the Fox News anchor's tone at the debate. He also brought up Wallace's deceased father in his attempt to insult the broadcaster.
"I didn't think that the tone that Chris asked the question was appropriate… I was a little bit insulted. "I was a very good friend of Mike Wallace. In fact, Mike did me on 60 Minutes."
He he, Trump said Mike Wallace did him. (Sorry, let my inner Beavis get out for a second.)
While this was generally tame by Trump standards, reading between the lines, you can definitely see that Donald is trying to give orders to Ailes and Fox News on how he should be treated. How will Ailes respond to this? Will Roger decide to actually go to war with the Trumpster, especially as it appears that Trump feels he holds all the cards and can demand preferential treatment? Ailes isn't the kind of man who will typically take this sitting down.
Below is video of the interview, courtesy of Newsmax: