Bill O'Reilly's 'Tribute' To Jon Stewart Is Pretty Much The Most Bill O'Reilly Thing Ever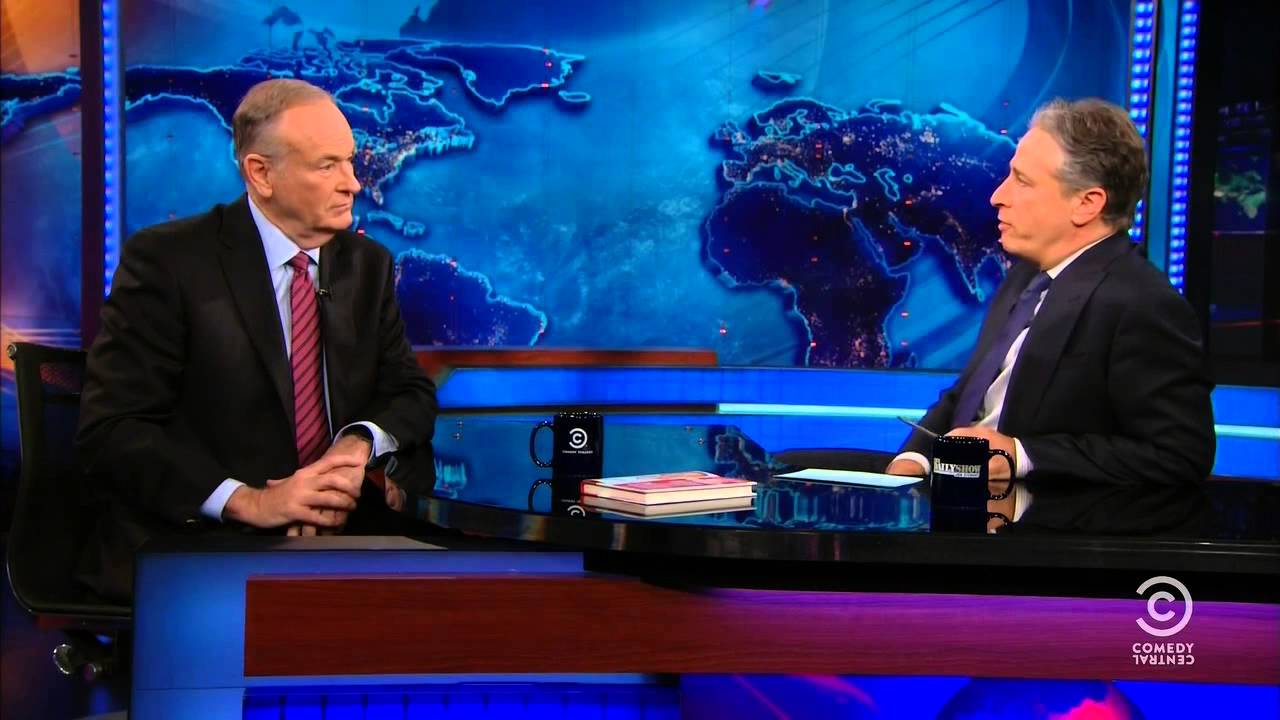 On the day of Jon Stewart's final appearance as lead of The Daily Show, a position he's held for 16 years, Stewart's greatest adversary penned a letter of "appreciation" that was published by Deadline. Bill O'Reilly, host of The O'Reilly Factor who has appeared on Stewart's show numerous times since 2001 — and Stewart has made many appearances on the Factor — was asked to pay homage to his longtime foe/friend, and the tribute that he wrote was pretty much the most O'Reilly thing ever.
Stewart has maintained that, oddly enough, he and Bill-O have always gotten along well. Of course, despite the personal affection he's held for the man, Stewart has never failed to take O'Reilly to task, just as he's done to Papa Bear's fellow Fox News colleagues over the years. Meanwhile, O'Reilly has not been very willing to praise Stewart, as he's used his show's platform to demean him on many occasions, but he has given him faint credit from time to time. The high point of this relationship was reached back in 2012 when the two met for a 'friendly' debate in the midst of the Presidential election season. 
The fact is, these two will always be kind of joined at the hip, as they represented sort of a yin and yang of political discourse in the media. While O'Reilly has always considered himself a serious journalist and commentator (he's not), and Stewart has constantly pointed out that he's 'just a comedian" (he's not), the two will always be inextricably linked, whether they like it or not. Therefore, it just made sense that O'Reilly provide some kind of public comment about the departure of his rival/soulmate.
After a quick intro, O'Reilly gets right to the point of belittling Stewart and his fans while simultaneously offering semi-backhanded compliments. He says that Stewart was able to think "from time to time" but sometimes he had to confuse the comedian "with facts," which he "felt bad doing."
Far more than a comedian dependent upon a squad of jaded writers, Stewart actually thinks about things from time to time. He's good at spotting phonies and is quick with a quip when challenged. I always looked forward to verbally jousting with the man even though, at times, I confused him with facts and I felt bad doing it.
Bill-O then lays into what he believes is Stewart's core audience (stoners and aging hippies) while claiming that his own audience all have had jobs at some point. (Presumably Daily Show viewers are all on the welfare.)
Of course, Jon Stewart is being held captive by a self-imposed left wing view of society. That has served him well in the marketplace as his audience of young stoners and aging guys with ponytails lap up his snarky liberal talking points. I'm sure he would reply with a sardonic put down of my audience as out of touch white people, but then again most folks who watch me actually held a job at some point.
After bringing up their argument about white privilege — O'Reilly did not concede defeat but implies Stewart felt his argument was valid  — your humble correspondent stated that Stewart is not a "malicious man" and that he can be reasoned with "when he's sober." However, there are those he will not give any leniency. (My guess is he's talking about his Fox News buddies here.)
And that's what I appreciate. Unlike some of his soulmates, Jon Stewart is not a malicious man by nature. You can reason with him when he's sober, although there are certain individuals that drive him crazy and he gives them no quarter. In that he's human.
O'Reily, true to form, ended the post by getting in one last dig on Stewart.
Undeniably, Jon Stewart was great at what he did.
Whatever that was.
I am sure Jon Stewart loved every word of this tribute from his pal O'Reilly.