Ted Nugent Claims The Whole Cecil The Lion Story Is A Lie And People Are Stupid For Being Upset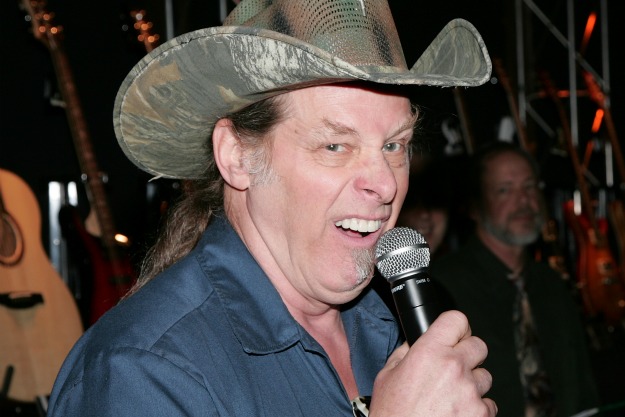 Raise your hand if you just knew that the one person who was going to take American dentist Walter Palmer's side regarding his involvement in the killing of beloved African lion Cecil would be Ted Nugent. On Tuesday, the draft-dodging trophy hunting proponent responded to a Facebook query from a fan asking him his thoughts on the controversy over Palmer's actions earlier this month. True to form, the 'Wang Dang, Sweet Poontang' auteur stated that the whole story was a lie and that people who are outraged are "stupid".
Below is a screengrab from his Facebook page:

It would seem that Ted is the one who doesn't have all the facts. He seems to be making the claim that Cecil, who was collared and protected by a national park in Zimbabwe, was a "wild lion" who deserved to get killed due to it being "ESSENTIAL". However, two local hunters have already been arrested and charged with poaching in regards to the illegal kill and Zimbabwean officials have identified Palmer as the one who paid these locals $50,000 to help him bag a lion for his trophy room.
Cecil was a 13-year-old protected lion who was being studied by conservationists and scientists, which is why he was living in the national park and wearing a collar with a GPS device. (Something the hunters tried to destroy after they killed him.) But, you know, that really doesn't matter to Teddy boy. Any chance to toss insults at animal-loving, pussy-ass libtards makes The Nuge a happy dude.
On the flip side, based on the almost universal hate Palmer has received for paying tens of thousands of dollars to kill a national treasure, it seems safe to say that Nugent is not going to endear himself to, well, pretty much anyone.