MSNBC's Mika Brzezinski Tears Into Mike Huckabee Over His "Callous" Holocaust Comments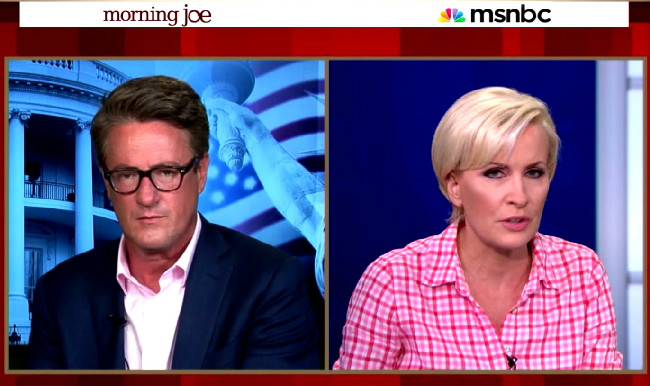 During Monday's broadcast of MSNBC's Morning Joe, co-host Mika Brzezinski reacted emotionally to comments made by GOP Presidential candidate Mike Huckabee over the weekend where he said that the nuclear deal President Obama made with Iran would be marching Israelis "to the door of the oven." Since making those comments, Huckabee has seen wide condemnation from the non-GOP portion of the country. On the other hand, Donald Trump's camp has already said that Trump agrees with and approves of Huck's remarks, reaffirming why the former Arkansas Governor made them in the first place.
Apparently, Mika had only heard that the Huckster had compared the Iran deal with the Holocaust but had not actually heard or read the exact comments until she recited them on the air Monday morning. While quoting Huckabee, her demeanor immediately changed as she uttered, "Oh God." She then pointed out that she was unaware of just how bad his remarks were until she read them aloud for the first time. She was completely shocked that a supposedly serious candidate for the White House would stoop to this type of inflammatory rhetoric. (Not sure why she'd be so shocked at this point, but oh well.)
Later on in the show, they played a clip of President Obama responding to Huckabee and other Republicans who have also made outlandish and inappropriate statements regarding the historic deal. Obama said that it was "so sad" that the GOP has to resort to this type of behavior and that Americans deserve better from their leaders. This led to a panel discussion where the basic consensus was Huck was just trying to up his game to get media attention due to Trump's hogging the spotlight by constantly saying outrageous and offensive things. Still, Mika said that Huckabee's "callous" remarks were far worse than anything any candidate has blurted out and that "it should be over for him."
Below is video of that segment, courtesy of MSNBC:
In the next segment, Mika decided that she needed to get something off of her chest regarding the former Fox News personality's uncouth Holocaust reference. In an aside, Mika said the following:
"If you've been to Auschwitz, if you've been to Birkenau, if you've been to any of these places where people were killed, and you see the piles of glasses, the piles of hair, the piles of shoes, and the piles of clothes and every bit of their humanity that had to be stripped away, handed over, as they went and then burned to their deaths, among other things, it's really not a good comment to say. It's a deal breaker! It should be over for him. You don't say that. And, by the way, if you said it by mistake, that's a sign of who you really are."
Below is video of Mika's statement, courtesy of MSNBC:
Interestingly, outside of Trump, the rest of the GOP has been pretty damn quiet about Huck's comments.