Spin City: 'Fox & Friends' Hosts Commit Most Of Monday's Show To Defending Donald Trump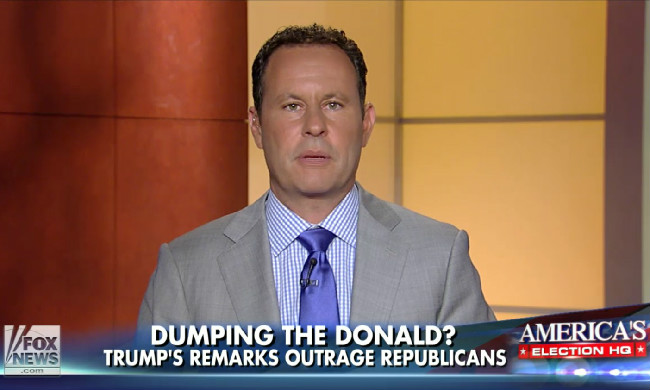 In the wake of draft dodging plutocrat Donald Trump receiving heavy criticism from Republicans over his comments about Sen. John McCain's service in the Vietnam War, the idiot trio at Fox News' Fox & Friends went right to work doing positive spin for The Donald. On Monday morning, hosts Steve Doocy and Brian Kilmeade used multiple segments to come to Trump's defense, claiming that he never really criticizes McCain's service or status as a war hero and that it is being blown out of proportion by the mainstream media and other GOP Presidential candidates because the reality TV star is leading in the polls.
Early on, Doocy got the ball rolling by making sure to point out that while Trump initially said that McCain was "not a war hero," he corrected himself and said that Trump later stated four times that McCain was indeed a hero for his service. (This became a theme throughout the broadcast.) Of course, Doocy doesn't explain the dismissive tone Trump used while discussing McCain's time as a POW, as he said twice that he's only a war hero because he got captured and that he prefers those who haven't been captured. (Presumably because they aren't LOSERS.)
The Dooce also noted that this is just a situation of Trump being Trump, and since he and McCain don't like each other, this is just the way he is going to talk. The goofily grinning host read excerpts from Trump's op-ed in Monday's edition of USA Today — of course he wrote an op-ed — that showed the orange haired one calling the rest of the Republican field losers who can't compete with him.
Below is video of the segment, courtesy of Media Matters:
Later on in the show, Kilmeade would moderate a discussion over the political fallout of Trump's remarks. During the conversation, both Kilmeade and libertarian political strategist (that's an actual thing?) Roger Stone said Trump was being taken out of context and that the tape proves he said McCain was a war hero four times. It should be noted that PolitiFact has already determined this claim to be 'Mostly False'. Stone and Kilmeade also felt that Trump was just being ganged up on by the other GOPers because he is so far ahead and in the polls. (He's not THAT far ahead, guys. He's also faring the worst of the GOP candidates in head-to-head polls against Hillary Clinton.)
Below is video of the discussion, courtesy of Fox News:
Further down the line, Doocy went for the full spin job by saying that Trump wasn't attacking McCain's war record, but instead his Senate record. Sure, in the aftermath, The Donald has tried to deflect and say that McCain's policy making has been bad for veterans, but at that moment on Saturday, Trump went in on McCain's military service. It had nothing to do with his record as a Senator. But, no worries, Trump has the friendly voices of the curvy couch there to do positive spin for him.
Below is video of that segment, courtesy of Media Matters:
Meanwhile, Trump spent Monday morning talking shit on NBC's Today while he sent one of his corporate lackeys to CNN to talk to New Day's Chris Cuomo. Both interviews were exactly what you expected — childish tantrums and insult throwing with no real coherency. The CNN interview with Michael Cohen, who is apparently Trump's campaign manager, was especially disastrous, as Cohen was unable to backup Trump's claims that he'd be able to immediately fix the VA. Instead, he just said Trump knows how to do stuff because he is mega-rich, so he'll totally Make America Great Again! Trump's interview on Today was just him berating the hosts and saying that he only brought up liking people who weren't captured because nobody pays attention to non-POWs. (Yeah, he really said that.)
Meanwhile, McCain took the high road on Monday during an appearance on MSNBC's Morning Joe. He did not demand Trump apologize to him, but did ask that he apologize to the families of other POWs who he offended.
Below is video of the interview, courtesy of MSNBC: