Fox News Contributor Says It's OK To Punch Women Because Of Co-Ed Sports And Gender Equality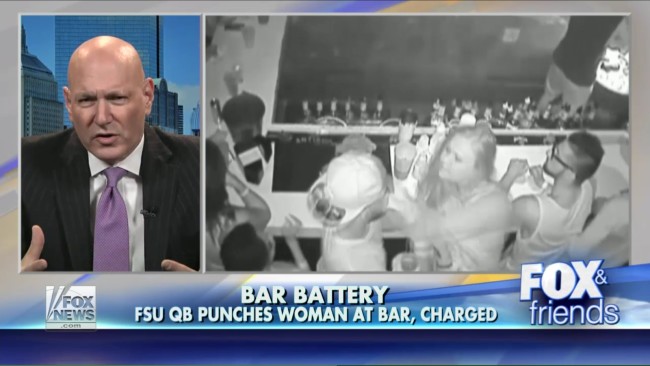 Leave it to Fox News to provide the caveman's take on violence against women. During Wednesday's broadcast of Fox & Friends, Fox News contributor and so-called psychiatrist Keith Ablow appeared for a segment discussing the recent incident of a college quarterback punching a woman in a bar. Former FSU QB De-Andre Johnson, who was recently released by the school, was caught on tape punching a female in a crowded bar after she slapped him. According to Ablow, women in today's society should accept getting hit by men as part of the deal of gender equality.
Ablow, who is regularly used by Fox to spout out batshit crazy comments under the guise of medical opinion, claimed that the rise of co-ed sports and the blurring of gender lines and dispensing of gender-based stereotypes means men are now going to smack women around more. In Ablow's view, the fact that American society is not placing a specific emphasis on gender roles will mean that women will just need to accept the fact that they will get punched in the face by men.
Ablow said the following to the Fox & Friends idiot trio:
"Listen if you're saying that it's just fine to flip a girl onto her back in a wrestling match, and pin her to the ground and take some joy in that — well then I guess if you're in a bar and she slaps you, you punch her in the face. Not in Ablow's world, because you'd never be wrestling her to begin with."
Ablow also blamed YouTube and social media for this, claiming that there are videos of girls betting into brawls, which is emboldening women to attack men in public. In the good doctor's opinion, we need to go back to a time when girls got pink toys and boys blue, and women knew their place was in the kitchen and sexually gratifying men. If we aren't going back to that time, well, bitch got it coming!
Below is video of the segment, courtesy of Fox News: