Megyn Kelly Reminds Mike Huckabee That "Like It Or Not" Supreme Court Has "Final Say"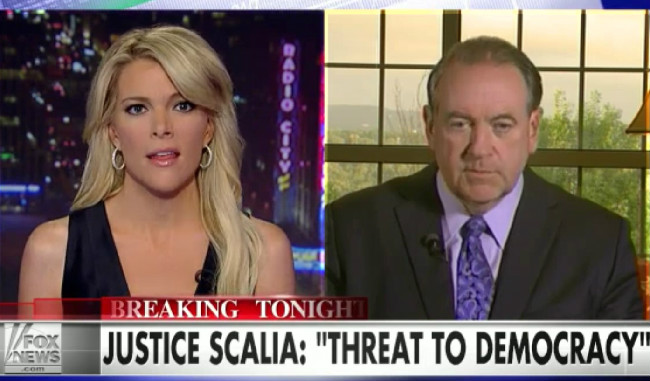 During the first segment of her show Friday evening, Megyn Kelly had to explain to 2016 Republican Presidential candidate Mike Huckabee that regardless of his disappointment and anger over the Supreme Court's ruling on marriage equality, he is going to have to accept it because the court has the "final say" in matters like this, "like it or not." The Kelly File host also brought up Brown v. Board of Education as an example of the court using the equal protection clause in the Constitution to protect the civil rights of a certain class of individuals.
The former Arkansas Governor and ex-Fox News host was Kelly's first guest of the evening and immediately went into defiant mode, tossing around the terms "unconstitutional" and "God's laws" when it came to the notion of same-sex marriage. Kelly brought up the statement Huck made immediately after the decision came down. The Baptist preacher and culture warrior complained in his release that he "will not acquiesce to an imperial court any more than our Founders acquiesced to an imperial British monarch. We must resist and reject judicial tyranny, not retreat." Megyn asked her former colleague, "What does that even mean?" (With a nice little 'What the fuck?' look on her face.)
From there, Kelly clarified — as one would do with a child — that no matter how much Huckabee didn't like the decision, he would have to abide by it. Regardless of someone claiming that something is unconstitutional, the actual Constitution gives the Supreme Court to power to interpret the laws of this nation. In this instance, they came to the conclusion that gay and lesbian couples should have the same equal rights as other adults and be allowed to be married by a court of law, Christianity be damned.
The rest of the interview was just more whining from Huckabee, with him complaining about the President's stance on gay marriage and stating that he and others will have to lead a charge to get a constitutional amendment passed that would explicitly outlaw same-sex marriage. (Good luck with that, Bubba.)
The sad thing for Huck and the rest of the social conservatives who have their panties twisted in a bunch is they aren't getting any sympathy from a major Fox personality whose program airs in primetime. Sure, Sean Hannity and Bill O'Reilly will jump on their side. But Megyn Kelly, who is almost always willing to play ball with Republicans, just refuses to do so on this issue. And in this instance, Huckabee looked like a blithering idiot who refuses to accept reality. Which is of course what he is, but he was likely hoping that wouldn't be made so readily apparent Friday night.
Below is video of the segment, courtesy of Fox News: