Lara Trump Equates Mean Tweets About Her to President Trump Provoking Violence Toward Michigan Governor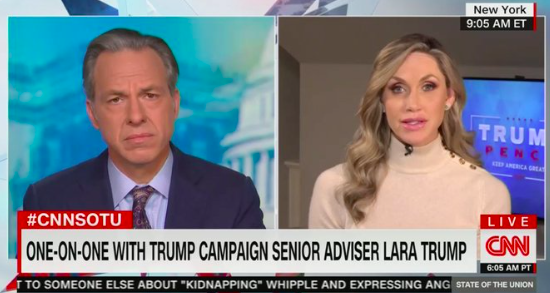 Trump senior campaign adviser Lara Trump insisted that the president wasn't doing anything wrong during a speech on Saturday when he continued to go after Michigan Governor Gretchen Whitmer even after a plot to kidnap her was uncovered by law enforcement.
This is exactly the rhetoric that has put me, my family, and other government officials' lives in danger while we try to save the lives of our fellow Americans. It needs to stop. https://t.co/EWkNQx3Ppx

— Governor Gretchen Whitmer (@GovWhitmer) October 17, 2020
"I understand he disagrees with her policies to contain the virus," Jake Tapper said on CNN State of the Union. "But why does he continue to use such heightened rhetoric at a time when her life was literally in danger, according to the FBI?"
Trump responded that the plot was an "awful" thing, but added that it was "the president's Department of Justice" that thwarted the plans.
Tapper then asked whether the president should still "tone it down."
Trump proceeded to complain about mean comments directed to her on social media, even though that doesn't equate since Democratic nominee Joe Biden didn't write them, a point which Tapper raised.
"[President Trump] wasn't doing anything, I don't think, to provoke people to threaten this woman at all," Trump then claimed. "He was having fun at a Trump rally… It's a fun, light atmosphere. Of course he wasn't encouraging people to threaten this woman."
The clip from the rally suggests otherwise.
Watch the video above, via CNN.