Lara Trump Attempts to Defend Barrett White House Event Where Mask Wearing Was Optional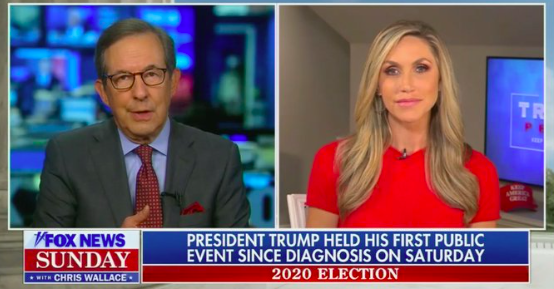 Chris Wallace on Fox News Sunday pressed Trump campaign senior adviser Lara Trump on the recent spread of the coronavirus through the White House, which resulted in more than a dozen positive tests, including President Trump and a couple senators.
Wallace mentioned the White House event on Saturday where Trump spoke to hundreds of people who weren't practicing social distancing, although some were wearing masks.
"Having said that, that's a lot better than two weeks ago at the event for Judge Amy Coney Barrett, where people were packed in, almost no masks and Dr. Fauci has said that that event was a super-spreader," Wallace said.
"Why did it take the president getting COVID for the White House to take the CDC safety guidelines more seriously, although even yesterday there were still violating some?"
Trump defended the Rose Garden event, claiming that many attendees were tested beforehand. She then went on to complain about mass protests for social justice issues allegedly not getting the same attention in the media.
"I take your point about the protests," Wallace responded, "but that doesn't make [any better] what happened at the White House, which…Tony Fauci says was a super-spreader, at least eight people at that event later came down with the virus, including the president and the First Lady."
Wallace then questioned Trump about her family deciding not to wear masks while seated at the first presidential debate even though it was required. Trump, however, said it wasn't a problem because they had tested negative beforehand.
Watch the video above, via Fox News.