Pence Claims Trump Didn't Downplay Coronavirus Even After Trump Said He Did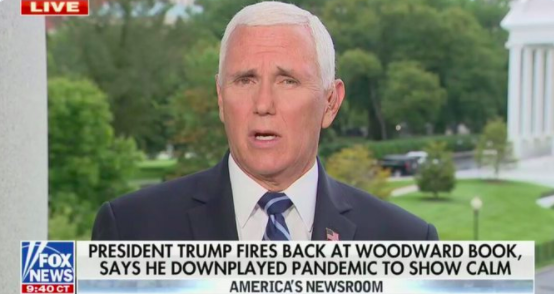 Vice President Mike Pence refused to acknowledge that President Trump sought to downplay the dangers of the coronavirus in its early stages even after Trump admitted to doing so to Bob Woodward, as revealed in audio tapes released Wednesday.
In an interview with Fox News on Thursday, Pence pushed back when asked if Trump made it more difficult to slow the spread of the coronavirus by not being frank with the American people about the threat it posed.
"I actually didn't sense the president was downplaying anything," Pence said. "We were giving the American people the facts as we knew them, as we learned them every step of the way."
In a conversation on March 19, Trump told Woodward, "I wanted to always play it down. I still like playing it down, because I don't want to create a panic."
Watch the video above, via Fox News.