Schiff: Trump 'Doesn't Care' About Loss of Life, 'Believes the Violence Helps Him'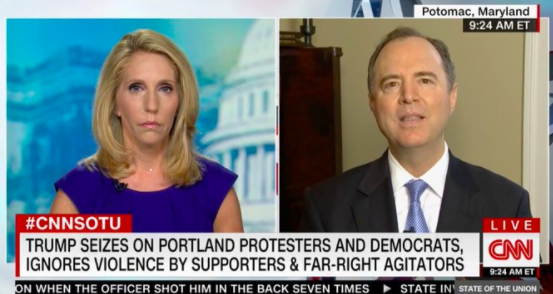 House Intelligence Committee Chairman Adam Schiff (D-CA) on Sunday criticized President Trump for encouraging social unrest to boost his reelection campaign.
Speaking to Dana Bash on CNN's State of the Union, Schiff commented on the recent violence in Wisconsin and in Portland, Oregon yesterday, where one person died from a gunshot wound amid clashes between Trump supporters and Black Lives Matter activists.
"The president is willfully fanning the flames of this violence," Schiff said, adding that Russia also benefits from internal discord in the U.S. as the election approaches.

"The president is only motivated by one thing: what is in it for him?" Schiff said. "He sees this violence — and his ability to agitate more of it — as useful to his campaign. What it does to the country, the loss of life — he doesn't care [about that]."
"That is the sad and tragic truth about this, but also about the Trump presidency more generally."
Watch the video above, via CNN.