Fox CEO Lachlan Murdoch Personally Approved Tucker Carlon's Defense of Writer Fired for Racism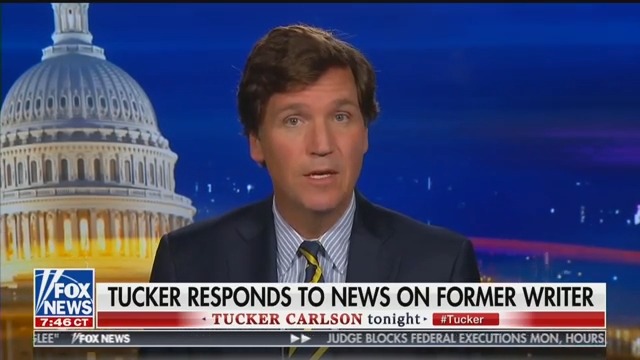 Fox Corporation CEO Lachlan Murdoch approved a defensive segment from prime time host Tucker Carlson defending a writer who was fired for posting racist and misogynistic comments online. Blake Neff was Carlson's top writer and the host offered no condemnation or apology for his behavior.
According to a blockbuster new report from The Daily Beast, Murdoch – the son of media tycoon Rupert Murdoch and an increasingly important figure in his business empire – not only showed support for Carlson amid an advertiser boycott but also saw Carlson's segment on Neff's firing before it aired.
"Two people familiar with the situation told The Daily Beast that Fox Corporation CEO Lachlan Murdoch personally approved what Carlson would say in his defensive Monday remarks addressing the exit of his top writer," the Daily Beast report says.
"Despite demands from Fox News executives that he pre-tape the segment and strike a conciliatory tone, Carlson barely sounded apologetic, knowing he had the full backing of the Murdoch heir."
The extensive new reporting also details how Black employees at Fox News and Fox Business were incensed by the increasingly racist comments of top hosts like Carlson and Laura Ingraham. One prominent African American personality, Charles Payne, even claimed he had been passed over opportunities because of his race.
One anonymous insider explained to The Daily Beast that Fox routinely hosts Black conservatives as cover for their racially-charged content.
"That's something they routinely do—they turn out these people, like Candace Owens, to support these things, and use Black apologists to denigrate other Black men and women and victimize them," they said.
You can read the full details in the article at The Daily Beast.