Tucker Carlson Taking 'Long-Planned' Vacation After Briefly Addressing Racist Writer's Resignation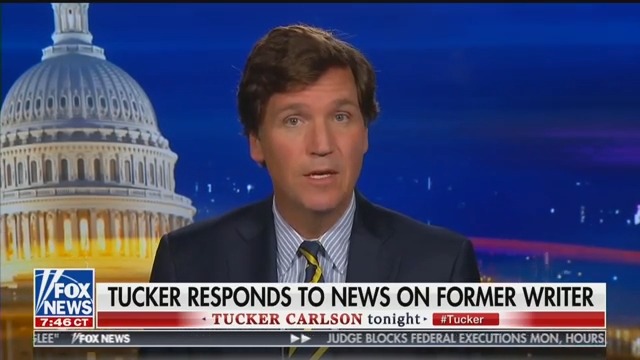 Fox News host Tucker Carlson addressed Monday night the resignation of his former top writer Blake Neff, who resigned late last week after CNN reported on his lengthy past history of pseudonymously posting racist and bigoted remarks on an online forum that openly trafficked in racist content. Carlson then announced he was taking a "long-planned vacation."
It came across as a both-sides argument, in which he said that while what an "ashamed" Neff wrote was wrong, those in the media should be careful with their "self-righteousness."
He then announced at the end of the broadcast that he would be taking a pre-planned vacation, seemingly taking great pains to make clear it had nothing to do with this current controversy.
"Going to spend the next four days trout fishing," he said. "Long planned, this is one of those years where if you don't get it in now, you're probably not going to do if something dramatic happens, of course. We'll be back."
Read the rest of the piece at The Daily Beast.
watch the clip above, via Fox News.