Pence Just Can't Bring Himself to Say 'Black Lives Matter'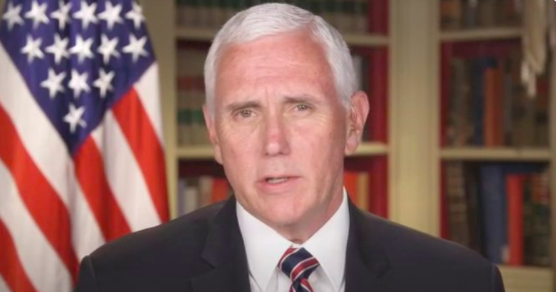 Vice President Mike Pence was interviewed Friday by a Philadelphia television station and was repeatedly pressed on why he would not say "Black Lives Matter."
Pence started by acknowledging that the killing of George Floyd was a "tragedy," and said that Juneteenth, the anniversary of the end of slavery in the United States, meant that people should respect that everyone is created equal.
"And so all lives matter in a very real sense," Pence told 6abc anchor Brian Taff. "It's the reason why President Trump in the wake of that tragic event in Minneapolis said that justice would be served. We've met with law enforcement leaders, we've met with African American leaders, and I think the people of Philadelphia can be encouraged by the president's action this week."

Taff, noting that Pence refused to say the words, asked why, especially in a time "when it appears that there's a segment in our society that doesn't agree."
"I don't accept the fact, Brian, that there's a segment of American society that disagrees in the preciousness and importance of every human life," Pence deflected.
"We are absolutely determined to improve the lives of our African-American citizens with more job opportunities, more educational opportunities," he said.
Watch the video above, via WPVI.