Kayleigh McEnany on Trump in 2015: 'I Don't Want to Claim This Guy'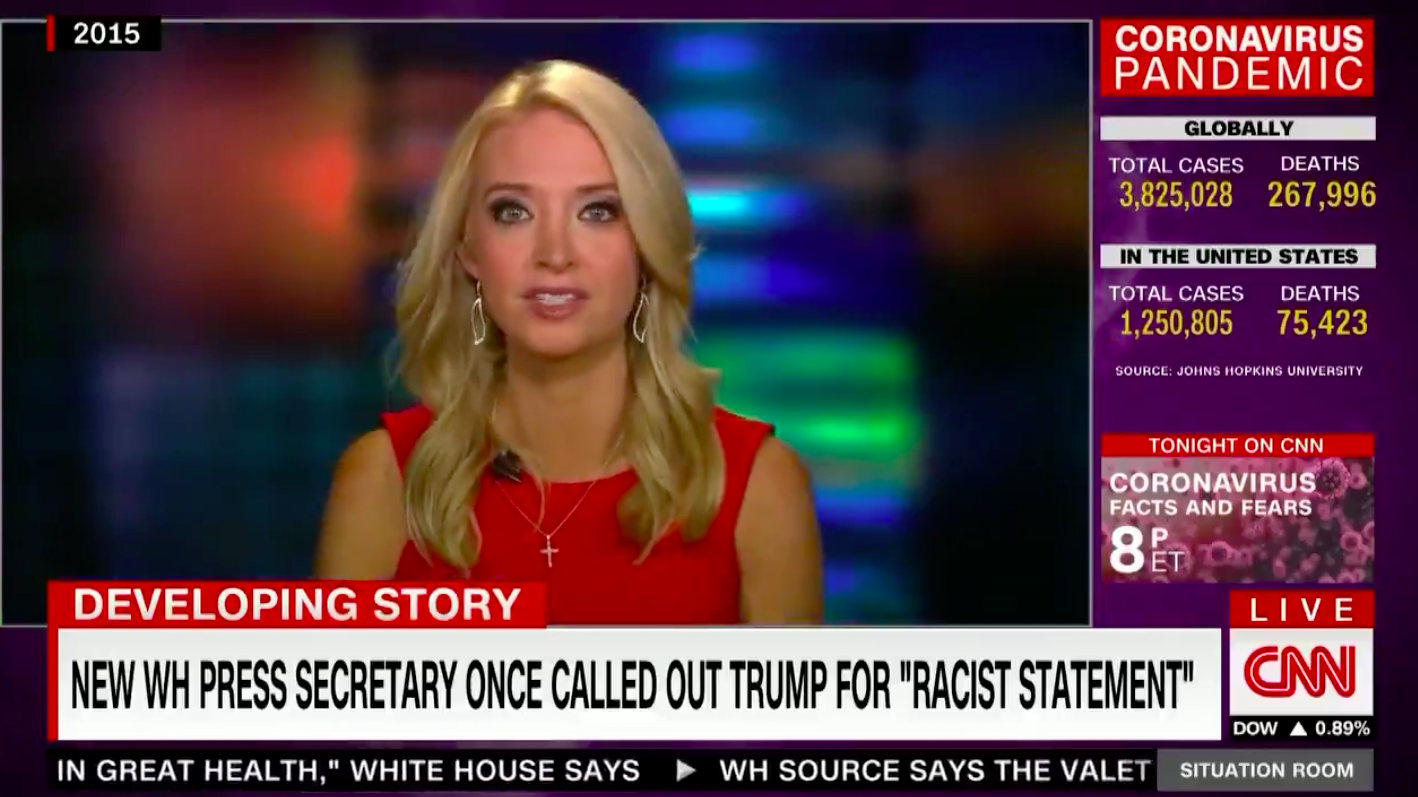 White House press secretary Kayleigh McEnany frequently criticized then-candidate Donald Trump in the early stages of his campaign, saying he wasn't a "serious candidate" and was actually a "progressive."
A series of panel discussions on CNN and Fox Business compiled by CNN show McEnany's stance on Trump as the GOP's field of primary candidates was first getting settled.
Here's video we just played on CNN of comments Kayleigh McEnany made criticizing Donald Trump in 2015, calling comments from Trump "racist," and saying he was "a showman," not "a serious candidate' and adding "I don't want to claim this guy." pic.twitter.com/dxDaFJgKqc

— andrew kaczynski🤔 (@KFILE) May 7, 2020
From the story:
In 2015, McEnany was particularly critical of statements Trump made while announcing his campaign, in which he said Mexico was sending immigrants to the US who were "rapists" and bringing drugs and crime to the country. Trump added that "some, I assume, are good people."
"To me, a racist statement is a racist statement. I don't like what Donald Trump said," she said in an exchange on CNN in late June 2015, in which she compared his remarks to comments about Jewish people made by the Rev. Al Sharpton in the 1990s.
McEnany added that Trump's comments were "derogatory" and as "equally hateful" as Sharpton's.
"Donald Trump has shown himself to be a showman, I don't think he is a serious candidate," she added. "I think it is a sideshow. It's not within the mainstream of the candidates."
As Trump continued to do well in the polls going into late summer, McEnany's criticisms subsided. Throughout 2016, she frequently defended the candidate as a CNN contributor.
The story notes:
Speaking on HLN in October 2015, McEnany outright defended Trump's comments on Mexicans, saying they were taken out of context.
"Donald Trump is benefiting from all of this, because here is the thing, because every time someone tries to falsely put words in his mouth, they say that he said all Mexican immigrants are criminals, but he did not say that," McEnany said.

"He said, when Mexico sends people, that is different," she added. "Mariel boat lift, Cubans and criminals. That is not an absurd thought, but people tried to paint him as a racist and sexist. But he benefits from that because people are tired of this politically correct culture, where you have to say everything perfectly correct, or else you are going to offend an entire segment of society."
After Trump was elected, McEnany served as spokesperson for the Republican National Committee and Trump's re-election campaign. She was named White House press secretary in April.