After Bombshell NYT Report, Fauci Acknowledges Lives 'Could Have Been Saved' With Earlier Preventative Measures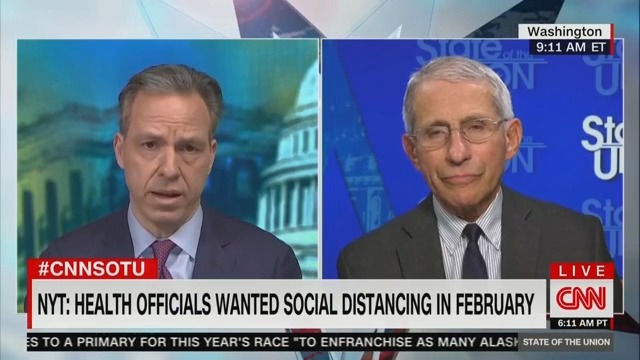 Dr. Anthony Fauci was pressed about a report by The New York Times over the weekend which revealed that President Donald Trump refused to announce or enact preventative measures to address the coronavirus pandemic even when his advisers warned that he do so.
Fauci appeared on CNN's State of the Union on Sunday to put some context into the administration's decisions, or lack thereof.
"You know, Jake, as I've said many times, we look at it from a pure health standpoint," Fauci said. "We make a recommendation. Often the recommendation is taken. Sometimes it's not. But it is what it is. We are where we are right now."
Tapper then asked if he thought "lives could have been saved" if social distancing measures began when Trump's advisers recommended them.
"Again, it's the, 'what would have, what could have.' It's very difficult to go back and say that," Fauci said.
"Obviously you could logically say that if you had a process that was ongoing and you started mitigation earlier, you could have saved lives. Obviously no one is going to deny that. But what goes into those kinds of decisions is complicated. But you're right, I mean, obviously, if we had right from the very beginning shut everything down, it may have been a little bit different. But there was a lot of pushback about shutting things down back then."
Watch the video above, via CNN.