Hannity Guest: 'Kids' and 'Almost Anybody Under 30 Is at No Risk' From Coronavirus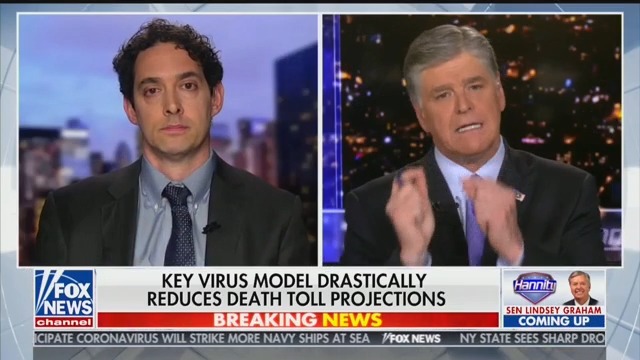 Fox News host Sean Hannity—yes, the Sean Hannity who has repeatedly peddled coronavirus misinformation—fact-checked a former New York Times reporter on Thursday night who falsely claimed that the deadly virus posed "no risk" to young people and children.
During his primetime Fox News show on Thursday, Hannity brought on Alex Berenson, who has drawn attention in right-wing media circles for insisting that the threat of the pandemic has been vastly overblown and the drastic social distancing restrictions that have been implemented weren't needed.
"Kids, children, almost anybody under 30 is at no risk to this," Berenson declared. "No serious risk from this virus. I'm not saying it can never happen."
"Whoa, whoa—hang on a second," the Fox host interrupted. "Whoa, whoa, whoa—that changed though. Hold on a second, Alex. That changed in the middle."
Read the rest of the piece at The Daily Beast.
Watch the clip above, via Fox News.