Government Workers Without Proper Gear, Training Met Coronavirus Patients, Whistleblower Says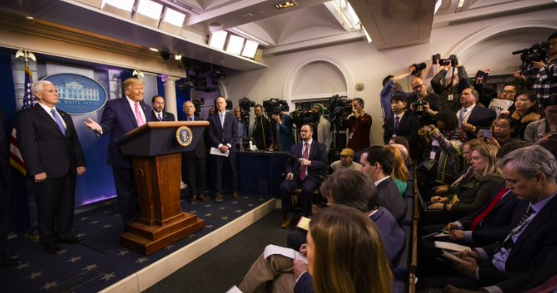 More than a dozen Department of Health and Human Services workers interacted with Americans evacuated from Wuhan, China, without proper training or protective gear, a whistleblower complaint alleges.
The whistleblower, a senior HHS official who oversees workers at the Administration for Children and Families, says she was retaliated against for raising the issue with HHS officials, The Washington Post reports. According to the complaint, she was improperly reassigned, and told that if she did not accept the change she would be terminated.
The complaint claims that HHS staff were ill equipped to "operate in a public health emergency situation." From the story:
The complaint also alleges the workers were potentially exposed to coronavirus because appropriate steps were not taken to protect them and staffers were not trained in wearing personal protective equipment, even though they had face-to-face contact with returning passengers. The workers were in contact with passengers in an airplane hangar where evacuees were received and on two other occasions: when they helped distribute keys for room assignments and hand out colored ribbons for identification purposes.
The Americans evacuated from Wuhan were quarantined on military bases in California and Texas. According to the Post, workers were not tested for coronavirus "because none of them met the criteria, which was restricted at that time to people with symptoms and either a recent trip to China or close contact with a person confirmed to be infected with covid19."
The complaint alleges that these workers may have spread the coronavirus following their interaction with those who had been evacuated.
"Our client was concerned that ACF staff — who were potentially exposed to the coronavirus — were allowed to leave quarantined areas and return to their communities, where they may have spread the coronavirus to others," said Lauren Naylor, a lawyer for the whistleblower.
Health officials have confirmed a case of coronavirus that could be a sign the virus is spreading in a U.S. community. It is a person in California who has not traveled to a country affected by the outbreak, nor had contact with a known patient. https://t.co/7cl3GeW4vb

— The Associated Press (@AP) February 27, 2020

Health officials on Wednesday confirmed a case of coronavirus in California, which may be the first detected infection of an individual who did not travel to a country affected by the outbreak or have contact with a known patient.