GOP Rep: What Trump Said on Ukraine Call Is Just the 'Blunt Talk of a Manhattan Businessman'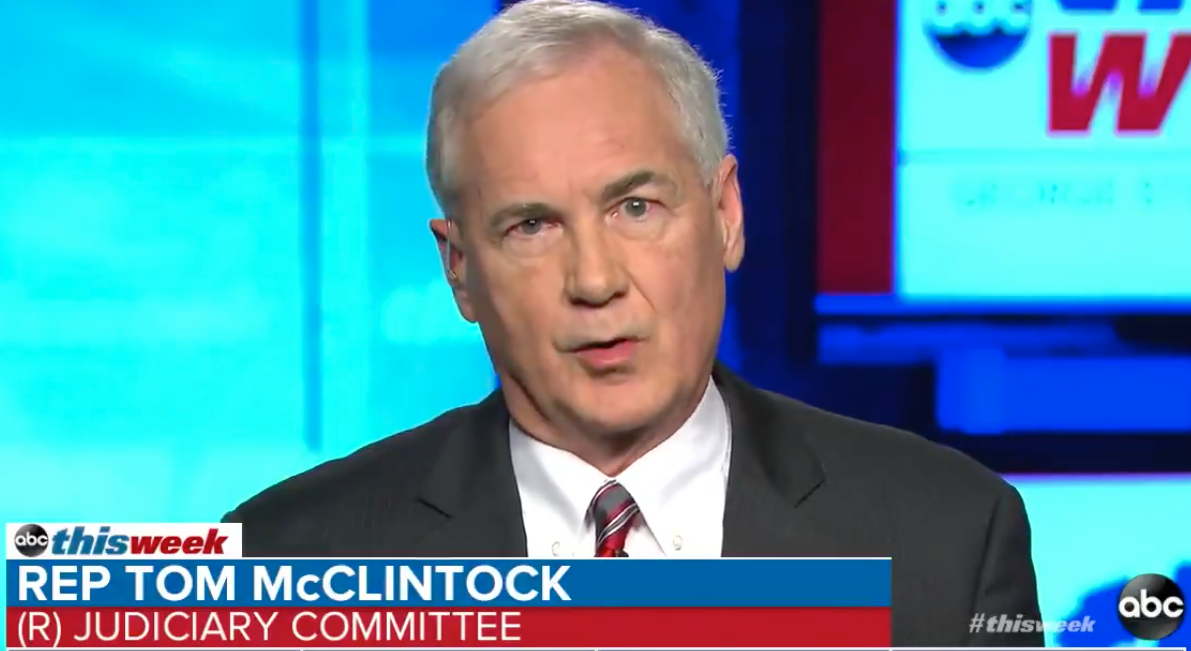 A Republican congressman actually found fault in President Trump's July phone call with the president of Ukraine in which he asked for an investigation into one of his political opponents. But it's the style of language the president used—not the substance—that he singled out.
Rep. Tom McClintock (R-CA) was asked by Martha Raddatz on ABC's This Week on Sunday if there was "anything in your mind that the president did involving Ukraine that is wrong or that concerns you in any way."
"Well, he didn't use the delicate language of diplomacy in that conversation, that's true," McClintock said.
.@martharaddatz: Does anything that Trump did involving Ukraine concern you?

GOP Rep. McClintock says Trump didn't use "delicate language of diplomacy" in Ukraine call but "what you hear from Donald J. Trump is the blunt talk of a Manhattan businessman." https://t.co/rjeu82JjqB pic.twitter.com/RChtckVHVU

— This Week (@ThisWeekABC) December 1, 2019
"He also doesn't use the smarmy talk of politicians," added the representative who has been in Congress for a decade.
"What you hear from Donald J. Trump is the blunt talk of a Manhattan businessman. He says what he means; he means what he says," McClintock continued, as if the year was still 2015 and Trump had just launched his campaign.
This, to McClintock, "is the only thing that's remarkable about that conversation." Trump, he maintains, was "entirely within his constitutional authority" in what he asked.
This is not the first time a Republican has defended Trump's behavior by citing his business background.
During a Fox News Sunday appearance in October, Acting White House Chief of Staff Mick Mulvaney said Trump "still considers himself to be in the hospitality business," as if that absolves him of the responsibilities of his current job.