Former Democratic Governor Lectures Fox Business Hosts Pushing Biden/Ukraine Corruption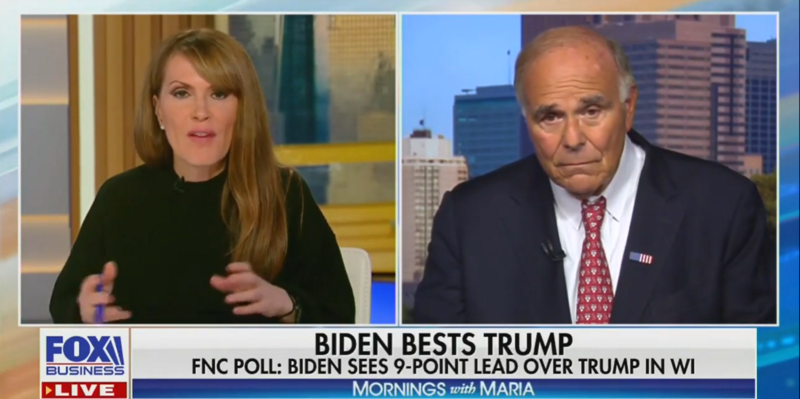 Former Democratic governor of Pennsylvania Ed Rendell explained to hosts on Fox Business on Monday why the talking points they were pushing about former Vice President Joe Biden were wrong. Hosts Maria Bartiromo and Dagen McDowell asked questions based on the Biden/Ukraine corruption conspiracy, which President Donald Trump has embraced.
McDowell asked Rendell if Democrats pursuing impeachment would harm Biden in the polls by keeping the Ukraine story in the news. She also claimed that Hunter Biden's work for a Ukrainian gas company was suspicious in some way.
"Well, first of all, even the Ukrainian prosecutor who was fired because the U.S. and other nations intervened, he said he found no evidence of any wrongdoing at all by Biden and Hunter Biden," Rendell said calmly, going on to deliver a lecture-like answer to the unhappy hosts.
"That's number one. Number two, every media outlet that's looked at this, and believe me, plenty of them have, because they didn't take it easy on Hillary Clinton in 2016, everyone who's looked at it gave Joe Biden a clean bill of health. So I think that's number one. That's number one. And there's no equivalency to what Joe Biden and his family did to Donald Trump saying he violated American law by urging a foreign nation to get involved in the U.S. election."
"I'm not arguing equivalency," McDowell said. "I'm looking at what clearly looks like influence peddling by the son of the Vice President and, again, a Vice President who turned a blind eye to it at the very least."
"Well, again, no-one has found any evidence of criminal wrongdoing including the Ukrainian prosecutor who was fired by the U.S. and other nations' intervention," Rendell said.
The Fox Business hosts, now clearly frustrated that Rendell was undermining their narrative, brought up the firing of Ukrainian prosecutor Viktor Shokin and the videotape of Biden talking about it. Again, they suggested something nefarious but Rendell wasn't having it.
"Because the international community, not just the U.S., several other nations wanted him fired because he was doing nothing to get at the root causes in the Ukraine," Rendell said.
"Look, let me be clear. This election is not going to be easy for Democrats. Any Democrats who think we have a cake walk to defeat Donald Trump is crazy. Because Donald Trump is the master at deflection and redirection," Rendell said before Bartiromo redirected the conversation.
Watch the video above, via Fox Business.