Geraldo Rivera Expresses Sympathy for Biden, 'Fox & Friends' Hosts Freak Out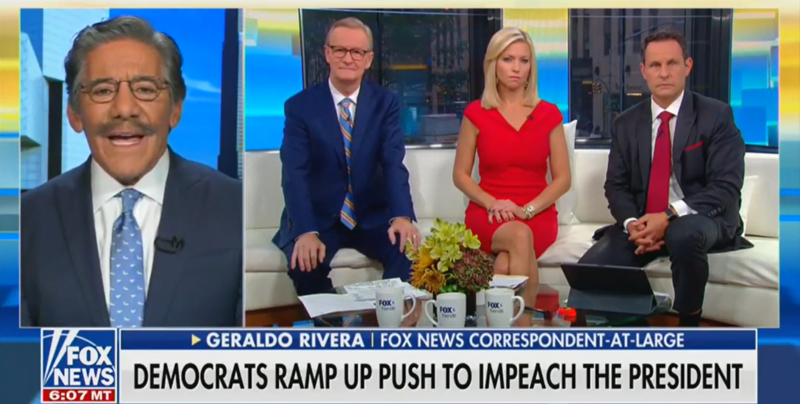 Fox News' Geraldo Rivera expressed sympathy for former Vice President Joe Biden on Friday, to the apparent horror of the Fox & Friends' couch. Rivera might have been mocking Biden using a sympathetic tone but it wasn't clear what his intentions were, leaving his Fox colleagues unhappy.
"You know, can I just have, Brian, a slightly different take as the father of five, including two boys and you know, we've had our ups and downs. Every family does," Rivera said.
"I feel awful for Joe Biden. He's a nice guy. He served the country. I fear that this process will destroy his legacy. I think that the nice guy, old Joe, I never thought that he'd go all the way, I thought that something would happen, something is happening but in a profound and awful way."
"Now his son, who he has struggled with, drugs and alcohol, and getting thrown out of the navy, getting, finally getting a job, maybe with his help, you know, then maybe he gave too much help. Maybe there was too much political favoritism and all the rest of it, I see this is a personal tragedy and the Democrats have no idea how destructive this will be, first to the Bidens, I think, ultimately to them, as they are portrayed."
"Regardless, everyone watching has struggles and challenges," co-host Brian Kilmeade pushed back. "When you're Vice President of the United States, and they put you in charge of the Ukraine shouldn't let your 37-year-old son get involved in energy company. That's not hard."
Rivera continued to express sympathy for Biden as the hosts challenged him about Biden's alleged actions. It's worth noting that there is no evidence of wrongdoing on Biden's part or his son's.
"Give me moment for some personal sympathy there," River said. He went on to say that foreign policy was complicated and involved judgement calls. Co-host Ainsley Earhardt was not pleased.
"If you're gonna give Biden a pass, if you're gonna give Biden a pass, though, there can't be a double standard," Earhardt said.
"I'm not," Rivera said. "Don't misunderstand me, I just want us all to have regret when it comes to the destruction of a political dynasty for reasons that appear to be pretty mean and, you know, self-serving."
Watch the video above, via Fox News.