Diamond and Silk Accuse Democratic Rep. Maxine Waters of Inciting Death Threats Against Them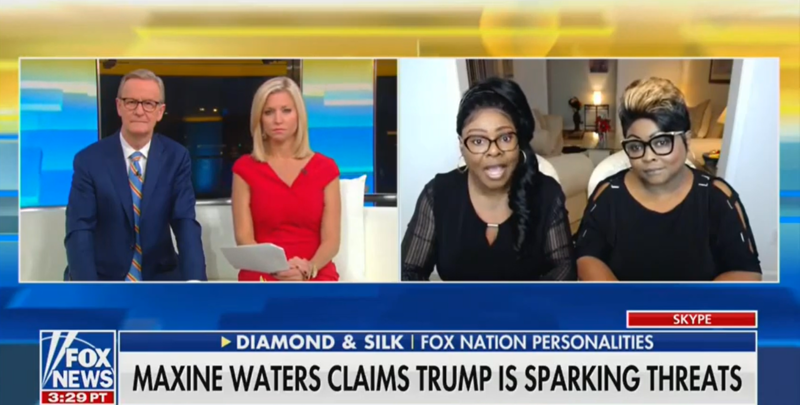 Fox Nation personalities Diamond and Silk (Lynnette Hardaway and Rochelle Richardson) have accused Democratic Congresswoman Maxine Waters of inciting death threats against them. Speaking on Fox & Friends on Friday, the conservative duo were responding to Waters' statement about President Donald Trump's rhetoric.
Waters had said that the President should tone down his rhetoric because it was leading to death threats.
"Well, you know, she is the one — remember when she ran around inciting violence telling people to attack President Trump supporters? Remember?" Hardaway said.
"Remember she did that? So you can't incite violence and then in the next breath cry the victim. You can't do that."
"Now on the flip side when it comes to Ms. Maxine Waters, he who cries the loudest have a lot of stuff to hide. You have to understand the reason why she going round disparaging and demeaning our President is because what is she hiding?"
"The President is draining the swamp and we want to know, what is she hiding? She's probably getting a lot of kickbacks and some paddywhacks. And it's probably about to be exposed," Hardaway said.
A little later, Richardson claimed that she and Hardaway had received death threats and she linked them directly to Waters' rhetoric.
"We get death threats. We get called derogatory names. And she is the one that's inciting it," Richardson said.
"She's telling people to hate on other people. She spew hates. She gives hate, and she display hate. She's a hateful lady."
Watch the video above, via Fox News.