MSNBC'S Donny Deutsch: If Things Go Badly for Trump, He'll Tell His Supporters 'Let's Go to War'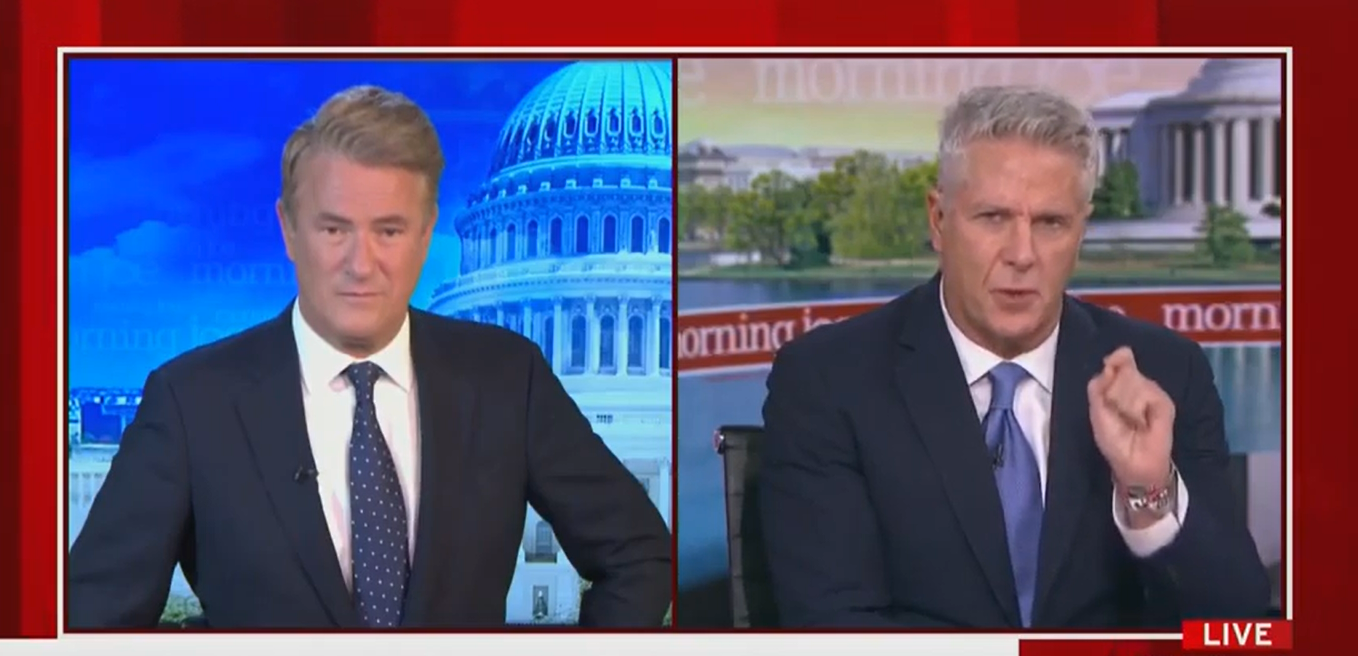 Branding and marketing expert Donny Deutsch thinks President Donald Trump's threats of civil war should be taken seriously. Speaking on MSNBC's Morning Joe on Tuesday, Deutsch said the President's supporters could take to the streets if the impeachment inquiry goes badly for him.
Co-host Joe Scarborough was discussing Republican Rep. Adam Kinzinger's reaction to Trump's 'civil war' tweet. Kinzinger has called his language 'repugnant'.
"And he said this was beyond repugnant," Scarborough said. "It is beyond repugnant, it is dangerous, not because we're going to have a civil war, but because there are, as we've seen, people that react to Donald Trump's hate speech, that react to his bigotry, that react to his calls for violence, and they react by, well, targeting Donald Trump's critics in the media and Democratic opponents. It is very dangerous."
"But it also, if you want to just look at that time through a cynical lens of politics, it's really dangerous for Donald Trump as well," Scarborough said.
"Because, Donny, you've got Republicans right now on the Hill going, my God, what — what's this guy's plan? How is he going to push back on eye crane and the fact that we've actually seen the communications where this guy not only told the president of Ukraine that he would, you know, I'll help you but you've got help us first, and then the next day they find out that he told the Russians, he wasn't concerned with them interfering in American democracy."
"Despite the fact that all of his Intel people say it is the greatest risk facing the United States right now. So when you have all of this happening, Donny, yes, it's dangerous, it's inflammatory rhetoric. It's also harmful to the President's own political standing. At some point, Republicans say, hey, we've got save ourselves. We're not listening to a Jeff Flake op-ed. You know what we're doing? We're looking out for our own political backside. And this guy is taking us down."
"I agree with the political inevitability," Deutsch said. "But I want to go back to the civil war. Because authoritarians, dictators, tell you what they're going to do. If this goes down bad for Donald Trump, he will tell people to take to the streets. He will do that."
"But they won't," Scarborough said.
"If — he will say — he will literally … In his mind he owns 25% of this country and he's going to say, guys, let's go to war," Deutsch said. "That was not just a little side bar. He's telling you what he's going to do."
Watch the video above, via MSNBC.