Rudy Giuliani: 'I Can't Tell You If It's 100%' That Trump Didn't Threaten Ukraine Aid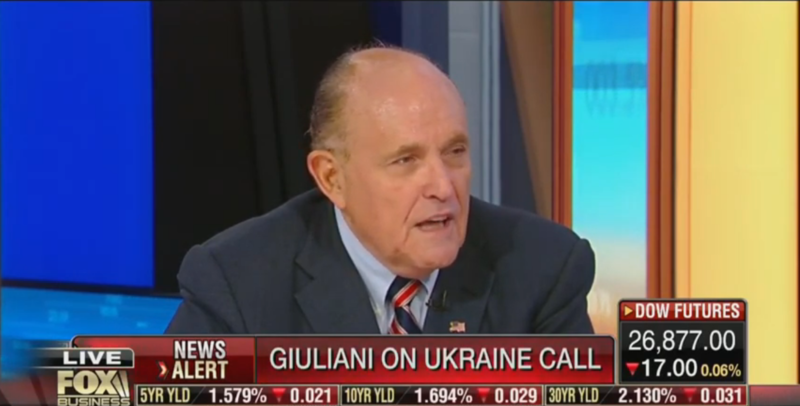 Rudy Giuliani has said he cannot guarantee that President Donald Trump didn't threaten to cut off aid to Ukraine. Giuliani's admission comes as criticism of the President mounts over his alleged attempt to pressure that country's government to investigate former Vice President Joe Biden.
Giuliani told Fox Business that he can't say for certain that Trump didn't threaten to withhold aid. When pressed on the matter by Maria Bartiromo, Giuliani said: "I can't tell you if it's 100%'.
As Bloomberg's Caitlin Webber points out, this could be a sign of how the Trump campaign plans to fight the 2020 election against a potential Biden candidacy.
"The episode is a preview of the kind of 2020 campaign the country will face if Biden becomes the Democratic nominee," Webber writes.
Trump has so far refused to give Congress a transcript of his conversation with Ukrainian President Volodymyr Zelenskiy. This conversation, and likely others with Zelenskiy, is reportedly the subject of a whistleblower complaint which has also been withheld from Congress.
As the issue splits into 'two parallel, partisan narratives' it's likely both sides will toughen their stances. House Speaker Nancy Pelosi has appeared to toughen her stance on impeachment, despite earlier caution on the move.
"If the administration persists in blocking this whistle-blower from disclosing to Congress a serious possible breach of constitutional duties by the president, they will be entering a grave new chapter of lawlessness which will take us into a whole new stage of investigation," Pelosi said in a letter to Democrats.
Watch the video above, via Fox Business.