Andy Ngo Tells Fox News: Masked Antifa Children Harassed Portland Police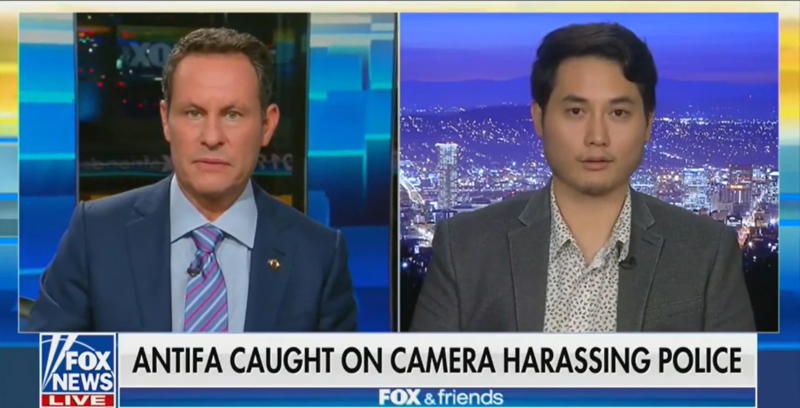 Fox News once again gave a platform to widely discredited provocateur Andy Ngo on Monday morning. Ngo, who has been described as a 'right-wing troll' and 'far-right grifter', told Fox & Friends' Brian Kilmeade about Antifa's alleged use of children in Portland, Oregon during the Climate Strike there.
Fox showed another of Ngo's now notorious videos as he described what he claimed took place.
"On Friday hundreds of thousands around the world marched and in spite the apocalyptic language and fear mongering about the climate it was peaceful except for in Portland where a faction of Antifa militants dressed head to toe in black and wearing masks and showed up commandeered part of the demonstrations," Ngo said.
"They replaced the chants about the climate to expletives against the police. There was several arrests throughout the day. One of the violent suspects who was arrested, who has a big Antifa tattoo on his neck, was found to be carrying a cache of weapons including a dagger, a switchblade, a hammer and brass knuckles."
Ngo went on to say that some of those involved were in fact children.
"This group that demonstrated on Friday was a bit younger than what the average Antifa member is, you could say," Ngo said. "This was their youth wings."
"What's concerning about this to me is that this movement is able to recruit younger and younger people. And many of these masked people were really children and you see how they bought on to this narrative that the police are evil and they have no hesitation in not just showing disrespect to law enforcement but hatred and trying to actively get in the way of arrests."
Ngo may still appear on Fox News, but he is not a credible source of information and has been widely condemned in the press.
Watch the video above, via Fox News.