MSNBC's Chris Hayes: Fox Hosts Competing to be 'Most Shameless Toady' for Trump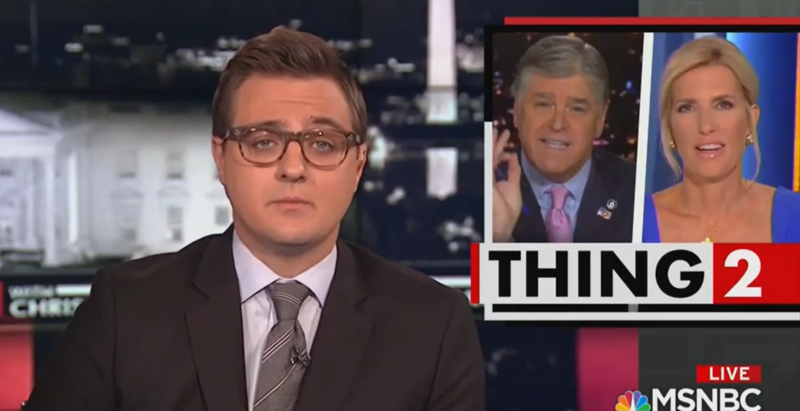 MSNBC's Chris Hayes mocked Fox News hosts on Wednesday night for wanting to be President Donald Trump's most loyal 'toady'. Hayes used his 'Thing 1' and 'Thing 2' segments to criticize Fox hosts Sean Hannity and Laura Ingraham, while he also took aim at Sarah Sanders and Lou Dobbs.
Hayes mocked Sanders, the former White House press secretary, for complaining that news and opinion should be separate.
"[W]hen you go to work for Donald Trump among the things you must be ready to sacrifice is your dignity, if you had any in the first place" Hayes said.
"After one leaves the Trump White House one can either begin the process of trying to repair that dignity or continue down the career path of publicly humiliating oneself for money. Sarah Huckabee Sanders left her job lying for the Trump White House to do it on Trump TV and there's just no irony in appearing on a Trump propaganda outlet to complain masquerading as news to complain about the integrity of the news."
Hayes went on to discuss an apparently tense conversation between Fox's Sean Hannity and Laura Ingraham, where Hannity complained that Ingraham had cut off one of Trump's speeches.
"Sometimes it feels like there's a competition over on Trump TV to she who can be the most shameless toady for the man in the White House watching on TV and now I'm a little worried that competition may be straining the relationships between the good friends hosting the shows over there," Hayes said.
"Last night there was a bit of of an incident and you can tell their still good TV friends because they keep smiling as they say awful stuff to each other," Hayes said, before showing a clip of an exchange between Hannity and Ingraham.
Hayes joked about the matter again when he handed off to Rachel Maddow at the end of his show.
Watch the videos above, via MSNBC.