'Morning Joe' Mocks Trump's Priorities: Iran Isn't Intimidated by the Border Wall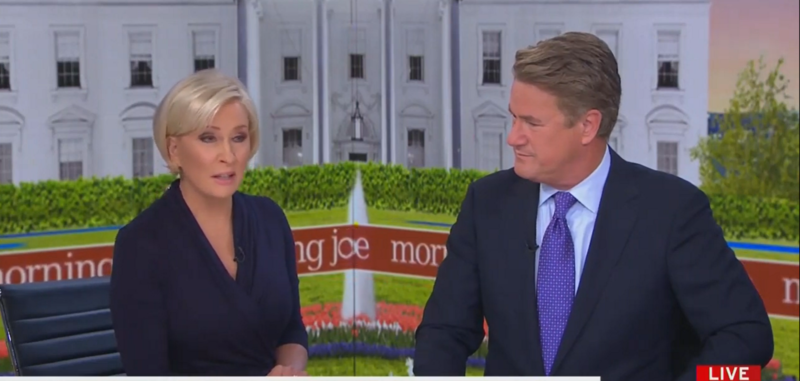 MSNBC's Morning Joe made fun of President Donald Trump's press event at the wall along the southern border on Thursday. Co-host Joe Scarborough and Washington Post columnist David Ignatius mockingly criticized Trump's emphasis on the wall while a potential crisis unfolds in the Middle East.
"The Pentagon said this month it would use $3.6 billion in military construction funding to build the wall, again, stealing from other military projects to pay for a wall that has not yet been built," regular contributor Willie Geist said.
"Stealing from other military projects while we have a real showdown in the Middle East right now," Scarborough said.
Co-host Mika Brzezinski mocked Trump for signing the wall as Scarborough pressed on with a comment about Iran.
"Al this talk of the wall, David, while we are in a crisis in the Middle East and with leaders from the Middle East telling me that if the United States doesn't figure out a proportionate response to Iran's attacks that no-one will respect America again."
"Well, it doesn't seem like the Iranians are really intimidated by all this wall footage," Ignatius said. "You'd have to say, Joe, the man knows his concrete, though. That was an impressive display of concrete knowledge."
"He knows his concrete. And he always did tell anybody who asked, Willie, that if you wanted to know who laid the best concrete, it was the mob. He said they could do a floor and a skyscraper faster than anybody else," Scarborough joked.
"To be clear, no evidence the mob's involved with the border wall construction here," Geist said.
"No, no, I'm just saying. And no evidence that he was involved in Trump's hotels, though Trump constantly bragged to people that the mob could lay cement on floors faster than anybody else," Scarborough said.
Geist went on to explain why the situation was an 'absurdity'. The panel agreed that it was bizarre for Trump to focus on a border wall that isn't being built while there are very serious issues in the Middle East and while former National Security Advisor John Bolton was 'trashing' the President.
Watch the video above, via MSNBC.