Hannity Complains That Ingraham Didn't Air End of Trump Rally: 'We Were Right at the Crescendo!'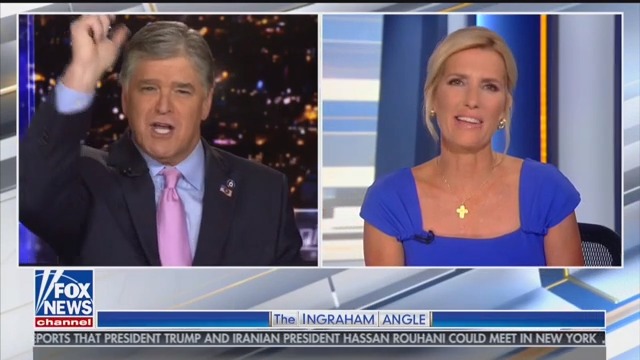 Days after Fox Business Network host Lou Dobbs went into full 'Dear Leader' mode by crediting President Donald Trump for weekends being possible and describing the White House as the happiest place to work in the world, Fox News host Sean Hannity chastised his colleague Laura Ingraham for not airing the conclusion of the president's New Mexico rally.
During the handoff between their primetime programs on Tuesday night, Hannity playfully asked Ingraham whether he was allowed to "lodge a complaint."
"So I'm watching the rest of the president speech in New Mexico last night," Hannity said. "I wanted to see the ending! You cut to your debate early, and it was just at the end. Sorry. I loved watching your show, too."
Ingraham, meanwhile, sarcastically wondered if this was "the White House speaking is is that you." Hannity, who is known as the White House shadow chief of staff, shouted that it was "Sean Hannity speaking!"
"I couldn't tell," Ingraham snarked, adding: "I'm just teasing you."
Hannity, however, wanted his fellow Trump-boosting host know that there was a reason she needed to stick with the rally until the president finished.
"We were right at the crescendo! Like a great Bach or Mozart and then you are about to crescendo," the conservative Fox star exclaimed.
Hannity would then grouse that he "had to find the rest of the speech online," prompting Ingraham to explain that while "we love the president's speeches" Trump had hit on "all the new points" and she had a panel that wanted to dissect Trump's speech.
Watch the clip above, via Fox News.