President Trump Is Reportedly Jealous of Don Jr.'s Romance with Former Fox News Host Kimberly Guilfoyle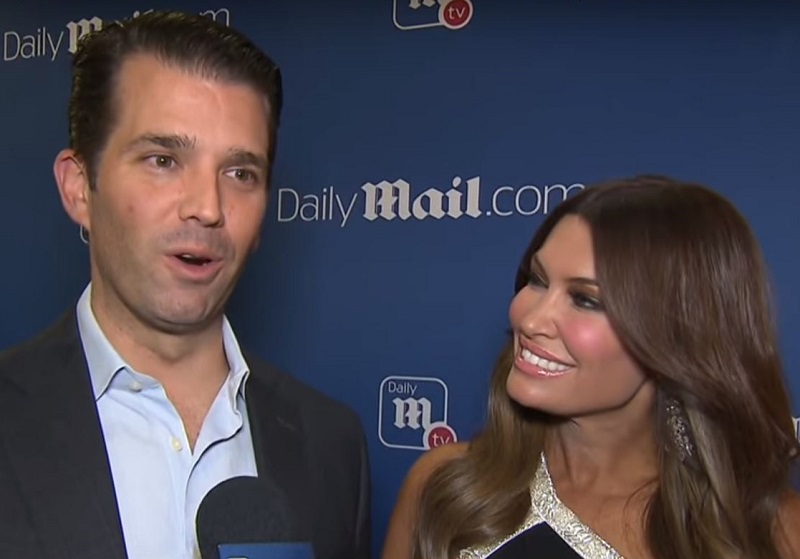 President Trump may have disapproved of his son Donald Trump Jr's relationship with former Fox News host Kimberly Guilfoyle because the president had the hots for her himself.
That is one of the juicy nuggets buried in this long look at the rivalry between Don Jr. and sister Ivanka published on Monday by The Atlantic.
Writer McKay Coppins reports on the beginnings of the relationship after Don Jr. and his wife announced in March of 2018 that they planned to divorce. The younger Trump almost immediately took up with Guilfoyle, who had been angling for a way into the administration in a professional capacity:
The Fox News host had lobbied to become White House press secretary early in the administration, but Trump had shown little interest, according to two former aides. "Even he can tell the difference between the attractive women on Fox who have a little bit of substance, and those who will be derided as airheads," one aide said.
Oof.
The couple quickly went public and became a hit among Trump's more fervent supporters and the press. This apparently caused some tension with both the president and his other children:
One source told me that after her attendance at a White House Fourth of July party sparked a round of fawning press coverage—upstaging Jared and Ivanka—Don was contacted by an official informing him that he would need to clear his guests the next time he visited. And as Thanksgiving approached, the president made it known that Guilfoyle wasn't welcome to join the family at Mar-a-Lago[.]
In the Trump family, one can imagine that one member stealing another member's fawning press coverage would be grounds for backstabbing or even banishment. Or maybe it was something else:
But according to one longtime Trump adviser, there may have been another reason for his displeasure. Over the years, Trump had frequently made suggestive comments about Guilfoyle's attractiveness, the adviser told me, and more than once inquired about whom she was dating.
Trump being jealous of his son for dating an attractive Fox News host known for her on-air sycophancy towards the president would be very on-brand.
Read the entire piece here.