Fox's Brian Kilmeade Quizzes FEMA Administrator On Funding, Forgets Trump Is Pulling Millions From It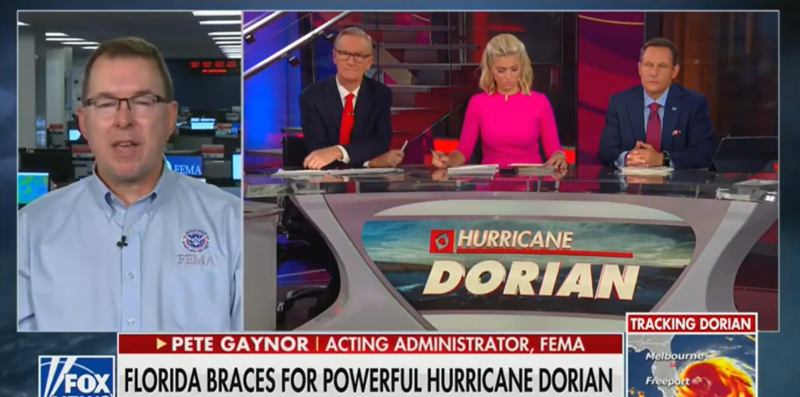 As part of their ongoing coverage of Hurricane Dorian, Fox & Friends interviewed the Acting Administrator of FEMA, Peter Gaynor. Co-host Brian Kilmeade managed to ask pertinent questions about FEMA's funding and staffing levels, but conveniently forget that President Donald Trump is responsible for pulling money from the agency.
"I've talked to the President every day, sometimes twice a day to include his staff and the Vice President, " Gaynor said. "He's involved in everything that we are doing and very supportive. Him and the cabinet. This is whole of government effort and it's, you know, we're moving through it. It can be frustrating sometimes because this is just a slow grinding storm but the team is together. And that starts with our local governments, our state governments and the federal partners and our private partners and NGOs, we're all working together pretty well."
"Is it true your FEMA overall is 2,000 employees down?" Kilmeade asked.
"We have some shortages when it comes to recovery because we've had a devastating 2017/18 season," Gaynor said.
"But when it comes to response we have all that we need. Becaue not just about FEMA. It's about all our partners. Whole of government, to include DOD. We have all the resources and staffing equipment we need to respond to Dorian."
"Do you not have the budget to hire these people? Do you not have the people to fill these positions?" Kilmeade asked.
Gaynor batted away the question and avoided mentioning FEMA funding. Though Kilmeade's line of questioning was appropriate and timely, both men ignored the fact that President Trump is removing money from FEMA to help fund border security. That announcement was made just last week.
Watch the video above, via Fox News.