Scaramucci Compares Trump To Jimmy Carter Who Led Democrats 'Into The Wilderness For 40 Years'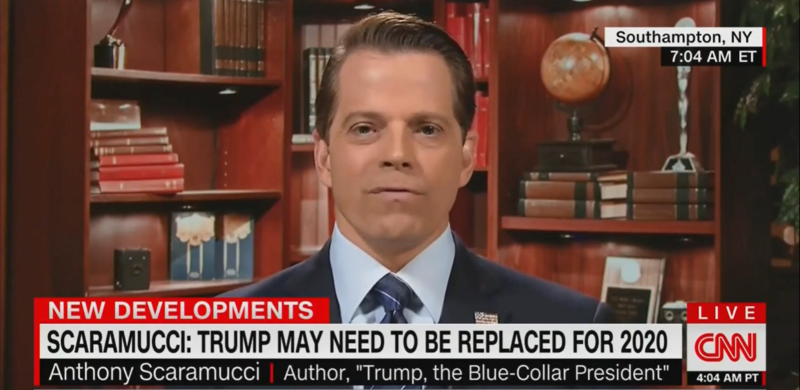 Anthony Scaramucci continued his criticism of President Donald Trump on Monday. The one-time White House official told CNN's John Berman that Trump might have to be replaced on the Republican ticket in 2020. He also made a bizarre and unflattering comparison.
"I got fired two years ago and have tried to stay very loyal to him and very loyal to the agenda," Scaramucci said.
"Because I think the policies are very, very good for the American people. But the rhetoric is so charged and so divisive that we have to all just take a step back now and say what are we doing, actually?
"So one thing that I find reprehensible and the President continues to do this and I think what will end up happening is sound and reasonably minded  men and women in the Republican Party will say, wait a minute, we can't do this. He is giving people a license to hate, to provide a source of anger, to go after each other. And he does it on his Twitter account, which incites hate, which incites death threats."
"The trade war thing is going to end up in an unexpected outcome. We can talk about that if you want. But lastly, how are we all tolerating this? So to me, I'm just saying, you know, last week, arguably one of the worst weeks in his presidency. And again, I'm not talking about things that happened to him politically from a legislation point of view or things like that, but just from the way he's acting as a human being."
"To me, couple more weeks like this, I really do believe there will be a ground swell in the party where people say, hey, the policies are great but you're setting us up the way Jimmy Carter set up the Democratic Party where they went into the wilderness for 40 years. Those are my opinions. I'm proud to state them. And you know, listen. I mean, if you saw the Chernobyl series, it did not end well. So we're in the first two episodes now. Let's see how this thing unfolds."
Scaramucci's Carter comparison is an interesting, if inaccurate, one. Republicans controlled the White House for 12 years following Carter's defeat in 1980 but it's likely Scaramucci was using hyperbole to express how dangerous Trump is for the GOP.
Watch the video above, via CNN.