'Fox & Friends' Host Brian Kilmeade Embraces 'Invasion' as a 'Fact' After El Paso Shooter Uses Term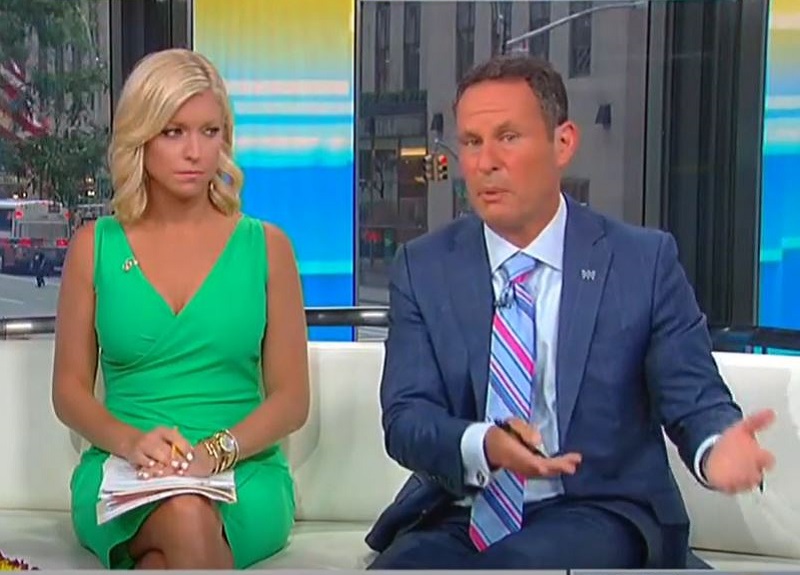 Despite a mass shooter citing migrants coming across the southern border as his motivation for slaughtering 22 people in El Paso last Saturday, Brian Kilmeade still sees nothing wrong with calling the flow an "invasion" no matter how inflammatory that may sound.
Kilmeade made the comments on Tuesday morning as the curvy couch crew of Fox & Friends went into DEFCON-1 mode in defense of President Trump's white-supremacist rhetoric over the last couple of years, despite the fact that said rhetoric has a body count.
Here is Kilmeade protesting too much:
"What the president has during his two and a half years is a major problem at the border, which was not his doing. Unless you want to blame President Obama for the unaccompanied minors. When you have over 110,000 people coming a month, over a million last year, and then well over a million this year. If you use the term an 'invasion,' that is not anti-Hispanic. It's a fact. If the Russians were coming through Alaska, through Canada, the president would be using the same language."
Yes, and his language would be xenophobic in that case as well.
This is not hard. The president and his nativist allies have used apocalyptic language for years about the issues at the southern border, describing migrants as invading America and hollering that they must be stopped before the country is irrevocably changed and whites become a minority. There are a lot of armed Americans who see it as their patriotic duty to repel this onslaught. Some join militias to patrol the border. The El Paso shooter appears to have skipped that step and gone straight to shooting.
Earlier in the segment, Steve Doocy read a disapproving editorial from the Wall Street Journal:
"And it goes on to say the media and Democratic politicians have drawn a straight line between the El Paso shooter's anti-immigrant manifesto and Donald Trump and the Republican Party. After so many recent mass shootings, it is disheartening to see how quickly the issue of these two highly disturbed shooters was overwhelmed by the urge to assign political causation."
It is easy to assign "political causation" to the shooter in El Paso because he said explicitly that he was responding to the "invasion" of Texas by Hispanic migrants, which is the same language used by Trump in describing the highly partisan and political issue of what to do about the southern border.
The hosts of Fox & Friends don't want anyone to point fingers because then they would have to take a long look at themselves and their support for President Trump. And that is bad for the network's business model.
Watch the video above, via Fox News.