'Fox & Friends': El Paso Shooting 'Hits Home' Because It Happened At Walmart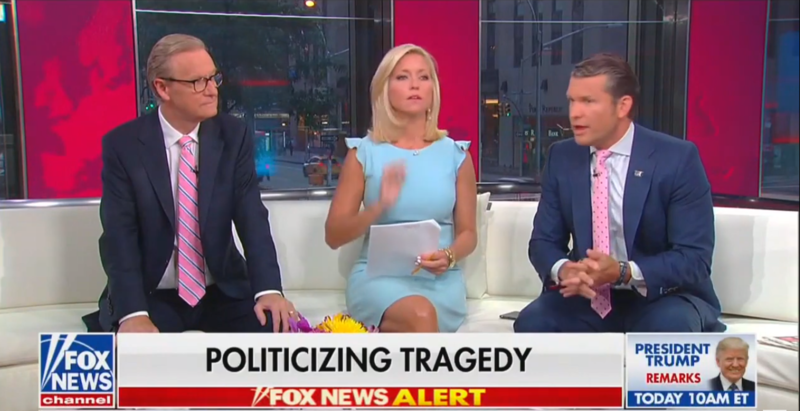 Fox News' flagship morning show spent Monday morning continuing to defend President Donald Trump from only culpability from the mass shooting in El Paso, Texas. Fox & Friends hosts continued to claim, without evidence, that the shooter is mentally ill. The killings are being investigated as a potential hate crime.
The Fox hosts tried to balance defending the President with sympathizing with the victims, but the bizarre mix of the rhetoric led to a tone deaf moment. Hosts Ainsley Earhardt and Pete Hegseth attempted to convey their concern about the attack but ended up sounding callous.
"You know what also hits home?" Earhardt said. "This is Walmart. We all go to Walmart. We all shop for school supplies for our kids."
"100 percent," co-host Steve Doocy said.
"That's why it's so impactful," Hegseth agreed.
Mass shootings have taken place in many familiar places, including schools and churches. For some reason, the Fox & Friends hosts felt that the location of the shooting – in this case a Walmart – rendered the tragedy more relatable. This is in spite of the fact that 20 people lost their lives – a fact that might be more important than the shooting's location.
While downplaying the apparently race-related motives of the shooter, Fox & Friends also succeeded in offering a deeply bizarre take on why people were emotionally affected by the attack.
Watch the video above, via Fox News.