Lou Dobbs Explodes When Fox Business Host Confronts Him About Trump's Exploding Debt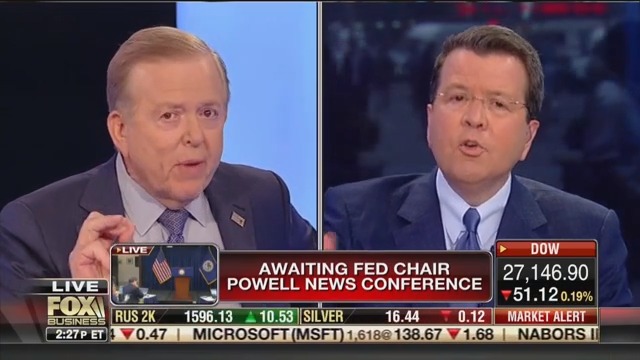 Things got extremely heated and tense on Wednesday afternoon when Fox Business Network hosts Lou Dobbs and Neil Cavuto got into it over the exploding deficits and national debt under President Trump's watch.
Moments after the Federal Reserve announced it was cutting its interest rate by a quarter-point—the first drop in the interest rates since the Great Recession—Cavuto groused during an on-air discussion with several Fox Business hosts that both political parties had abandoned "any hint of fiscal restraint." Furthermore, he dinged the Trump administration for having "not done a good job containing" spending.
"Fact, fact, do you think this president has done anything to contain the deficits and the debt that had spiraled, still, from what levels he had from Barack Obama?!" Cavuto fired back.
Read the rest of the piece at The Daily Beast.
Watch the clip above, via Fox Business.