Fox News' Outnumbered Blows Up Over Trump's Racism: 'This Is Insane!'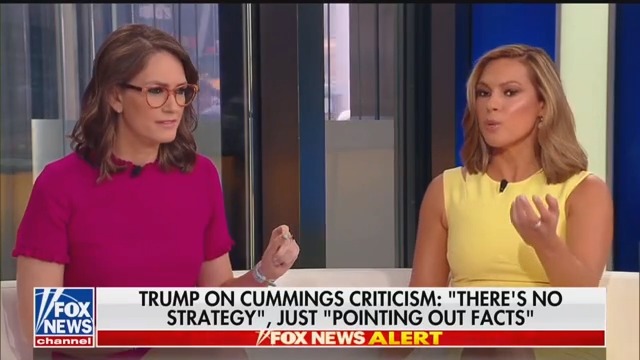 Fox News' early-afternoon gabfest Outnumbered went completely off the rails on Wednesday when lone liberal panelist Jessica Tarlov tangled with her conservative colleagues over whether or not it is fair to describe President Trump as racist.
"A birther means that you're a racist," Tarlov said. "Telling women of color who are congressional representatives to go back to where they came from—when three of them are Americans from birth, one a refugee who is now a citizen—is racist. Thinking that the Central Park Five is still guilty even though they've been exonerated, is racist."
Moments later, after going back and forth with Faulkner over whether the so-called Squad was right to suggest Speaker of the House Nancy Pelosi is racist—Rep. Alexandria Ocasio-Cortez (D-NY) has specifically said she doesn't believe Pelosi is racist—Tarlov then found herself in a battle with Boothe.
Read the rest of the piece at The Daily Beast.
Watch the clip above, via Fox News.