Fox News Host Pete Hegseth: Rashida Tlaib 'Has a Hamas Agenda'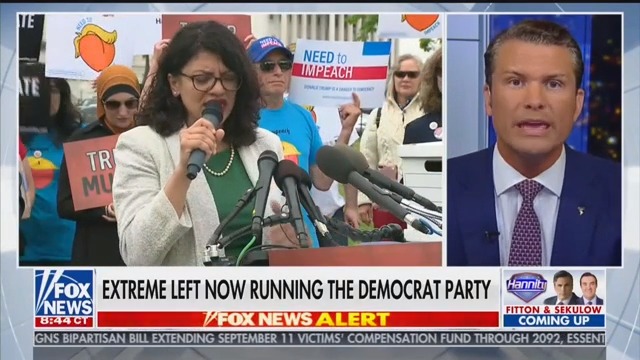 Taking aim at the group of progressive Democratic congresswomen colloquially known as The Squad on Monday night, Fox News host Pete Hegseth accused Rep. Rashida Tlaib (D-MI)—one of two Muslim women in Congress—of having a designated terrorist organization's agenda.
"No, it exposed the real agenda of today's modern left," the pro-Trump Hegseth exclaimed. "I mean, if you look at how Rashida Tlaib talked about President Trump having a hate agenda, I could, therefore, look at her and say that she has a Hamas agenda."
Hegseth went on to note that earlier this year, Tlaib—a Palestinian-American—criticized the New York Times for how they framed a headline regarding rockets fired by Gaza militants.
Read the rest of the piece at The Daily Beast.
Watch the clip above, via Fox News.