Jon Stewart: Politics Is Sometimes The Art Of Removing Your Soul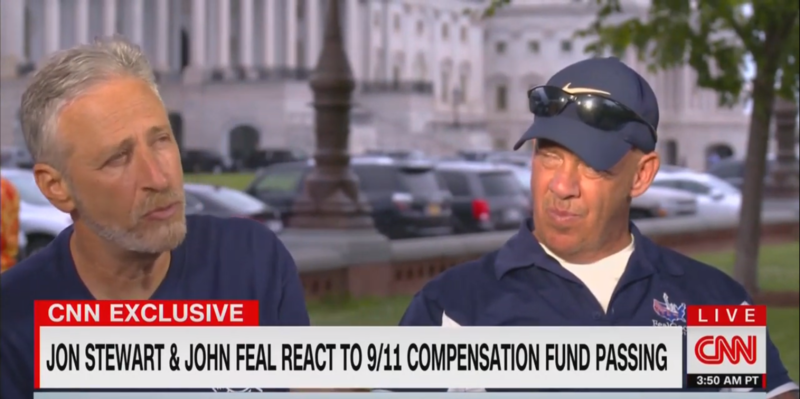 Comedian and campaigner Jon Stewart spoke to CNN Wednesday morning about the 9/11 first responders bill, which has finally been passed by Congress. Stewart has been an outspoken champion of 9/11 Victim Compensation Fund and has delivered emotional appeals to Congress in recent weeks.
Stewart and 9/11 survivor John Feal were largely magnanimous and even humorous in their interview with CNN's Alisyn Camerota, but the hard fight and opposition from Republican Senators Rand Paul and Mike Lee has clearly had an effect.
"I do think politics is sometimes the art of removing your soul," Stewart said. "And they remove people's ability to do the right thing for causes that have nothing to do with what the needs are of the people. And they do it really well."
"And they've gotten ensconced in this and that's been my experience here. There's all these people working their hardest to do the right thing and they're blocked at the top by those who are working to do the most politically."
"I agree with what Colbert says," Faul joked, comparing Stewart to late night host Stephen Colbert.
"Actually, that's not — that's a different — he's a slightly taller, more Catholic-looking. You don't even know me. We've been working together 10 years and you don't even know me," Stewart joked.
Stewart's work with 9/11 first responders has been a long-term project that has finally achieved success, despite the opposition of fiscal hawks who complained that the costs of the bill should be offset by cuts elsewhere.
Watch the video above, via CNN.