MSNBC Digs Up Footage of Trump Patting Woman's Butt, Partying with Jeffrey Epstein at Mar-a-Lago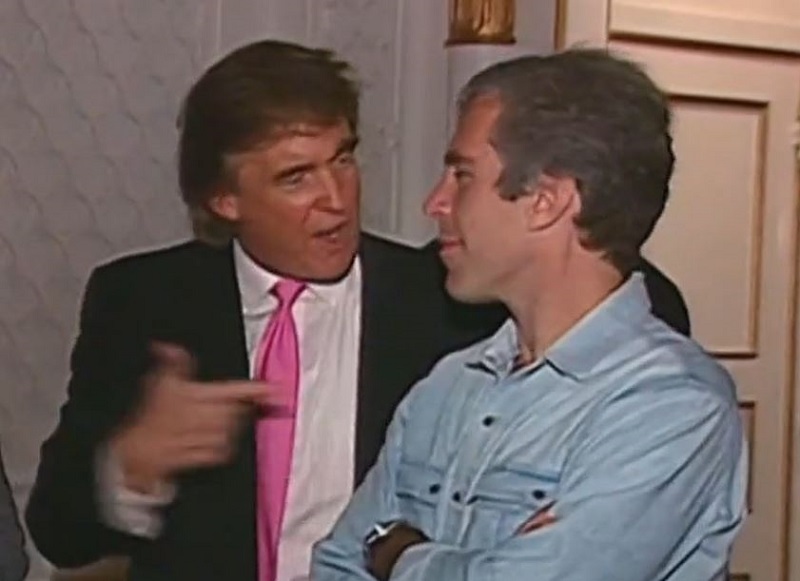 Morning Joe aired footage Wednesday showing Donald Trump and accused sex trafficker Jeffrey Epstein partying at Trump's Florida club, Mar-a-Lago, in 1992.
Mika Brzezinski introduced the segment by recapping how Trump has branded Mar-a-Lago the "Southern White House." Then she recounted how the club was more of a "party palace" for Trump in South Florida a couple of decades ago, when he was a high-flying mogul rapidly driving all his businesses towards bankruptcy.
Then Trump is shown in the Oval Office saying he knew Epstein, as did many people in his Palm Beach social circles, but claims he never liked the now-incarcerated sex offender.
This is followed by the footage, which shows a young Trump in a suit dancing and snarling with women identified as cheerleaders for the Miami Dolphins and Buffalo Bills. At one point, he pulls one of the women to him and pats her butt.
Then he is shown greeting Epstein and two other people as they enter Mar-a-Lago. Later, he and Epstein are seen apparently checking out the women as they dance. Trump comments that one in particular is hot and whispers something to Epstein that makes the financier crack up with laughter.
The Morning Joe crew acts as if they found the Zapruder film. Brzezinski and Joe Scarborough say the footage shows Trump and Epstein being friendly even though Trump says he never liked Epstein. But that fits with what is known about Trump, which is that many of his friendships have long been transactional. As soon as someone can no longer do something for him — finance a building, praise him on Fox News, vote for him — he loses interest.
Watch the video above, via MSNBC.